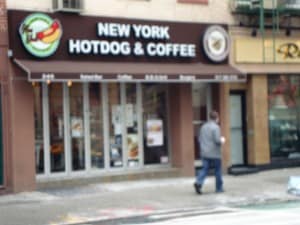 Today's Lunch is a kimchi-bulgogi hot dog from New York Hot Dog & Coffee, located at 245 Bleecker St (west of 6th Ave, by Leroy Street).
I must confess, when they moved into my neighborhood last year, we refused to try them because they replaced Pasticceria Bruno, one of our favorite places for Italian cakes and pastries, and we were pissed.  I know Bruno has another location on LaGuardia Place, but I passed this one almost every day and their pastries were works of art.  We know it was probably the landlord's fault that Bruno closed, but we didn't want to patronize the store that replaced our beloved Pasticceria Bruno.  And the name, New York Hot Dog & Coffee…it just sounded so tourist-y.
Well, they say time heals all wounds, and I love both bulgogi and hot dogs, so it was time to give it a try.  The person in front of me was being served as I walked up to the counter, and it looked really good, so I asked what her order was.  They said it was #7, a kimchi-bulgogi hot dog, which is a spicy hot dog with both kimchi and bulgogi on top.  There was an option of having this with a regular hot dog, but I went with the spicy dog.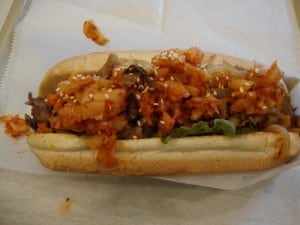 The hot dog is grilled, put on a piece of lettuce on a hot dog bun, topped with kimchi and bulgogi, and sprinkled with sesame seeds.  It was piled high and quite a mouthful, but worth the effort.  Very tasty.  The hot dog was not the highest quality hot dog in the world, but it was good, and covered in kimchi and bulgogi, it was even better.  The kimchi was spicy, but the hot dog wasn't really spicy, and the bulgogi gave it a nice balance.  Next time I want to try the dak-kalbi, spicy chicken with lettuce and pickles on a hot dog bun.
One more confession.  I actually snuck in and tried the bulgogi hot dog last year when this place was still under my house's boycott.  It sounded too unique not to try.  While the bulgogi hot dog was good, the kimchi-bulgogi hot dog was much better.  The spiciness really made it come alive.
Is a kimchi-bulgogi hot dog street food?  Who cares, it was delicious.  (For the record, we're going to add New York Hot Dog & Coffee to our Honorary Street Food category and put it on the New York Street Food map.)  Welcome to the neighborhood.