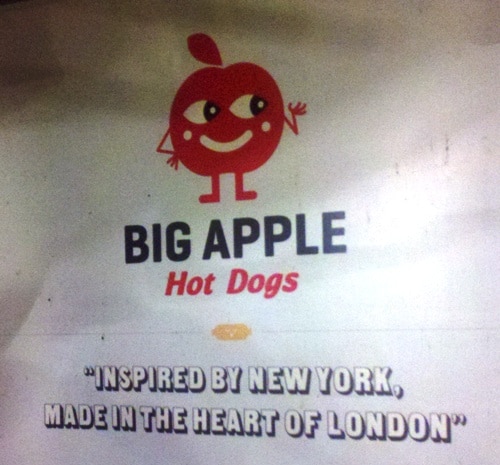 When we travel, whether it's London, LA, San Francisco or elsewhere, there are always stores named _____'s New York Pizza, New York Bagels or New York Hot Dogs. Everybody want to be like New York, which is exactly why we live here. For the most part, we don't usually give these businesses our money, but the hot dogs at Big Apple Hot Dog smelled really good on the grill.
Big Apple Hot Dogs had a great-looking kielbasa called The Huge Pole, but we wanted something smaller so it wouldn't cut into our appetite too much. There were too many other great vendors to try. 🙂
We're not sure where the name came from, but the Pimp Steak looked most like a New York hot dog, and it cost £3 (about $4.50).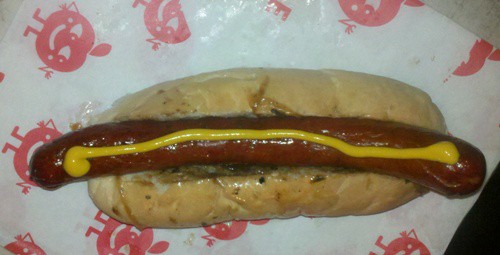 This was not a dirty water dog, boiled and served on most street corners of New York. It was longer than the standard dirty water dog and was grilled. This made it more like those served at places like the Carnegie Deli, Stage Deli and the 2nd Ave Deli.
The bun was different than the buns we're used to, larger and doughier, with a few poppy seeds. The grilled onions were put on the bun before the hot dog was added, which was a bit strange to us. We like our onions on top, where you can see them.
The hot dog peeked out from both sides of the bun, and we took a bite. It snapped, just like a New York dog, although not quite as briskly. The weiner had a nice garlicky flavor too. These are the places where most non-New York dogs fall flat – the snap and the garlic. Big Apple Hot Dogs got it right on both counts.
We were happy with the Pimp Steak from Big Apple Hot Dogs, although the bun was kind of heavy for a regular NY dog. It was made more for a large bratwurst or kielbasa, like The Huge Pole.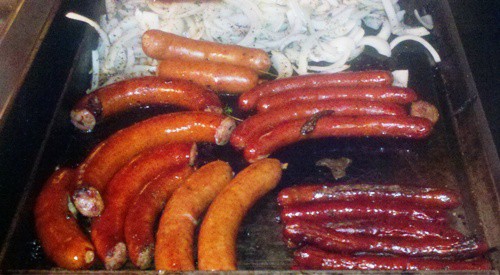 We would have loved to try The Huge Pole (no comments please), but there are too many other vendors to taste. Hey, there's only so much we can eat!
You can check out the Big Apple Hot Dogs website here, their facebook is here, and you can find them on twitter here.