As it started getting later and people finished their dinners, the line at You Doughnut! was getting longer. Time to get some dessert before heading back to our hotel. Unfortunately, this was to be our last street food meal in London. On this trip at least.:)
You Doughnut! fries up the raw dough fresh, right there at the stand after you order. They are called "doughnut bites", but are 2-3 bites each. Once they are fried, you get several funky choices.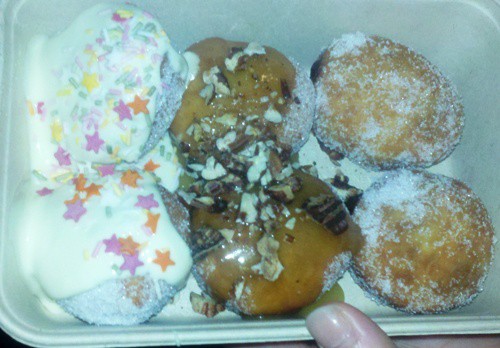 After being fried, the doughnut bites are tossed in bowls of either vanilla or cinnamon sugar, getting fully coated.
Toppings include melted white chocolate and sprinkles or salted caramel sauce with chopped pecans. We ordered 4 doughnut bites, which cost £3 (about $4.50).
It was pretty dark in the corner by You Doughnut! and the photos of our bites didn't come out so great, but we did take photos of someone else's doughnut bites too, and they came out better.
We asked for variety, so they put 2 doughnuts into the vanilla bowl and put 2 into the cinnamon sugar bowl and shook each around to coat them.
The powdered doughnut bites were put into a small bowl, and white chocolate sauce was put on one half, salted caramel sauce on the other. Then came the chopped pecans and sprinkles.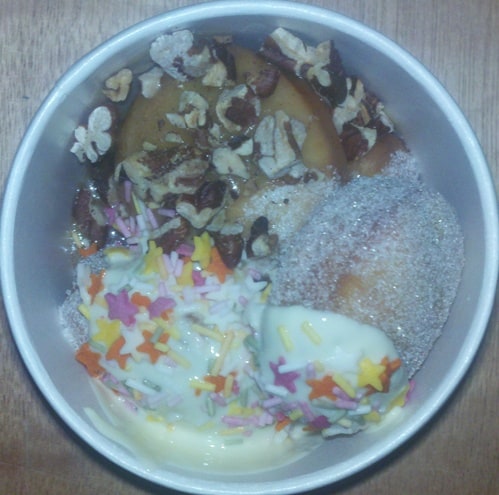 The doughnut bites were hot, fluffy and delicious. A light crisp on the outside and light-as-air dough on the inside. With the cinnamon, vanilla and sauces, all we can say is Wow! Hey You Doughnut!, thanks for the fantastic dessert.
You can check out their facebook here and find them on twitter here. We've seen fresh doughnut bites at some of the markets like Madison Square Eats, but they didn't have toppings and sauces like these.