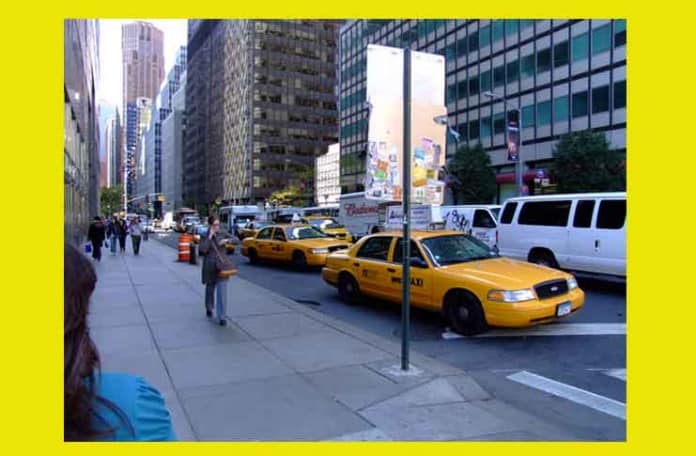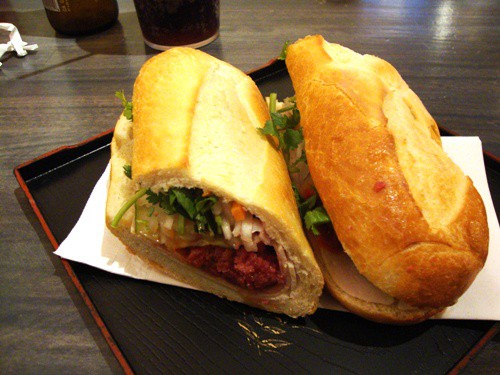 I was in the West Village around lunch today and remembered that Baoguette/Pho Sure has a location at 120 Christopher Street (between Bleecker and Bedford).
With the weather being cold and windy, an Honorary Street Food lunch seemed like a good idea – that is, a storefront or small restaurant with few or no tables that serve what is commonly considered street food in their country of origin.
The pho was tempting, but I decided to go with banh mi instead.  Today's Lunch is the Classic Banh Mi ($6) from Baoguette/Pho Sure in the West Village.
The Classic Banh Mi had pate, pork, pickled daikon & carrots, cucumber and cilantro.  The first bite tasted of cilantro and pate, and was wonderful.  Growing up on chopped liver, I got into pate pretty easily, and did not have to develop a taste for it.
Subsequent bites on the banh mi emphasized the pickled daikon and carrots.  The sandwich was juicy, although it was a little bit messy.
The bread was just right, crunchy on the outside but soft inside.
Today's Lunch gets an 8 out of 10.  Even though banh mi can be had for $3-$4 in Chinatown, I was in the West Village, and $6 is considered a decent price for lunch.  Next time I will probably go for the pho, but I was happy with the classic banh mi sandwich at Baoguette.