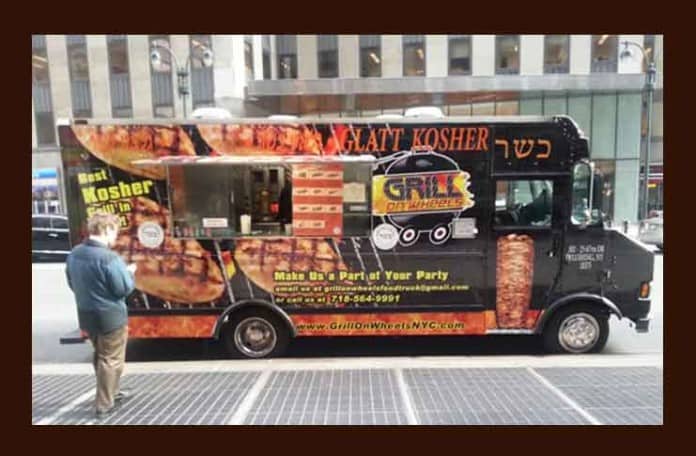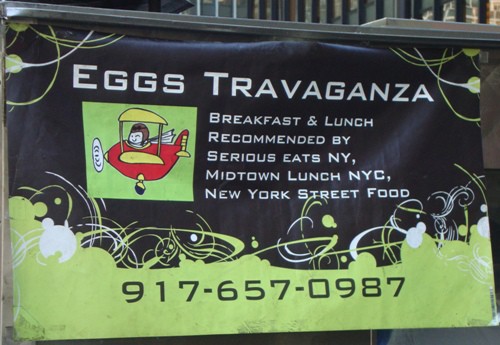 Another wet day today, but many of the vendors are still out working for you.  Give them your support.
With the changeable weather, make sure to check the pink Mobile Munchies twitter feed before heading out, in case someone had to move or closed early today.

StreetSweets – Hudson St (King & W.Houston) before it starts to rain again, Street Sweets is here for you!
EddiesPizzaNY – We r out today on 52nd and Park braving it in the rain. Also, free topping for anyone who comes to the truck today and mentions this message. Come show your support for our amazing truck employees!… http://fb.me/IiY1LWD0
UncleGussys – Were On 51st and park, goodmorning everyone;)
waffletruck – Happy Midtownursday! We're on 46 btwn 5 & 6 til 4:30pm. Mini-wafel truck on 59th betw Lex & Park. North sidewalk. Trying this as a new Thursday tradition for the outskirts of Midtown… Do your best rain dance for 1 free dinges today.
UncleGussys – Ok the spanakopita is ready 🙂
RickshawTruck – Rain sch-main! We got dumplings to fill those bellies! Come by the truck at Hanover Sq. and grab a sixer from Tina and Andrew. 11a-3p!!
PapaPerrone – We have sausage today
cakeandshake – Despite the WET situation, we are at the Met from 9-6am. Washington Square Park will be repaired today and we will see downtown tomorrow!
nyccravings – NYC Cravings & Demand Media are serving up Healthy Burritos to the Mindshare Agency today.
joyridetruck – In anticipation of the rain Joyride is closed today. See you tomorrow, Columbia!
BistroTruck – We won't be out today, We are preparing for the New Yorker/HSBC festival. Come check us out tomorrow on the westside." Locations will be annonuced ASAP
CupcakeStop – CupcakeStop Trucks closed today so visit our shoppe inside the Limelight Marketplace on 6th and 20th, 1st floor
fritesnmeats – Howdy Folks, the weather's gonna keep us away today. Sorry 🙁 Will be back tomorrow in FiDi. Stay dry
biggayicecream – I was hoping that the clouds might open up for an afternoon opening, but it looks grim. Thus I am at the computer plotting world domination.
2 new tweets.
KELVINSLUSH – Looks like it may be another rain out today. Will update if we make it out but not likely
CalexicoCart – Sorry guys, the carts are closed for the storm. We'll see you tomorrow.
Hoboken/Jersey City
VeganLunchTruck – It's raining, but we are still baking! Alright! Parked on Sinatra and 1st. Get your free lunch on, or swing by for your favorites until 3:00.
qbacubankitchen – No lunch service today due to heavy rain. Stay tuned for updates. Gracias!
TheTacoTruck – Due to the weather the truck will not be out today. Stop by our restaurant in Hoboken and look for the truck… http://fb.me/w6y75yFv