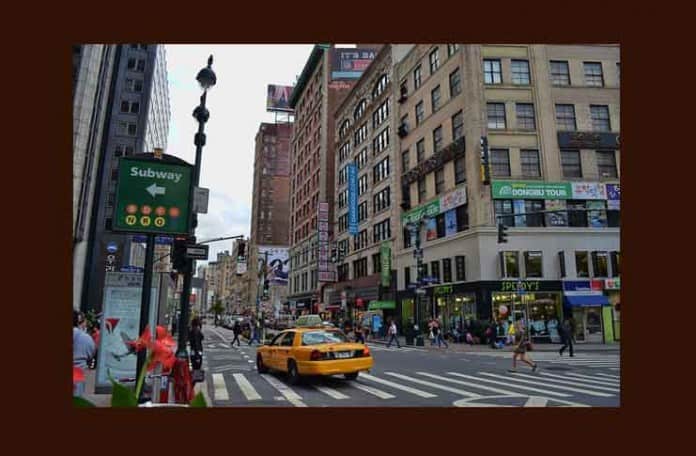 I had to be in the Village around lunchtime today, so I dropped into Creperie at 112 MacDougal St, between Bleecker & West 3rd St. Creperie is basically a storefront with a few stools, and they are in our Honorary Street Food category.
I've had yummy desserts from Creperie, but haven't tried a savory crepe yet.  They have an extensive selection of sweet and savory crepes.  For Today's Lunch, I selected a smoked turkey, mushroom and Swiss cheese crepe for $9.  Would it be as good for lunch as the sweet crepes were for dessert?  Find out after the jump.
I tried to chat with the guy behind the counter about New York Street Food, but he took an, "I just work here" vibe, like I was trying to sell him something.  This was in direct contrast to the girl who previously served us dessert crepes.  She was very happy and friendly.  Hopefully the food would be better than the server's attitude.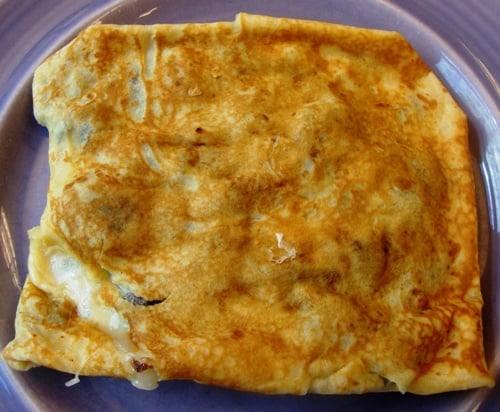 The first crepe broke apart when he tried to flip it over, so he threw it out and started again.  The 2nd one went better, although it still got a little beat up by the time I ate it back in my office.
After pouring on the batter and flipping over the crepe, he added a nice amount of smoked turkey, mushrooms and shredded Swiss cheese.  He then folded it up and flipped it over onto the grill again, this time putting a little weight on it so it flattened out a little.  This also gave the cheese time to melt.  It was then wrapped up and put into a foil container for transport back to the office.
The crepe itself was a little spongy, which was a nice change of pace from the pita bread or tortillas I usually have with lunch.  The turkey had a nice smoky flavor, which went well with the Swiss cheese.  The mushrooms added some additional taste and texture to the crepe.
There's not a lot to say about the crepe.  It was a nice change of pace from the usual street food I have, but $9 was a bit high for a crepe.
Today's Lunch gets a 7.5 out of 10.  The food gets an 8, but they lose half a point for value and the server's attitude.  If this crepe was $5-$7, I would be a regular, but for $9, probably not.