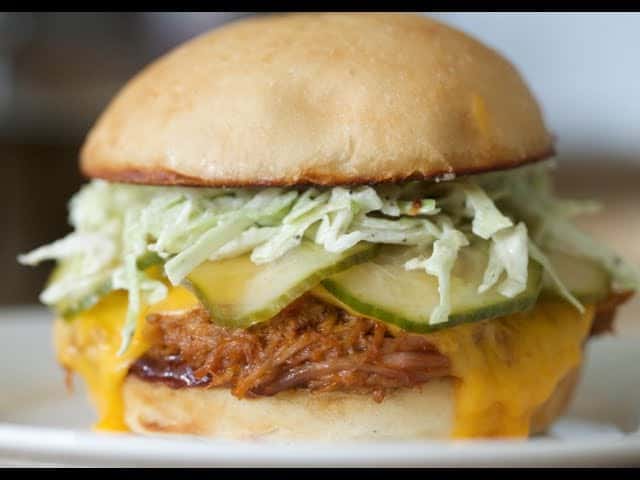 I had to be by Union Square around lunch, which means Today's Lunch is an old favorite – Num Pang.
Num Pang is a small storefront located at 21East 12th st btw University Place & 5th Ave with a few seats at counters upstairs, which puts it in our Honorary Street Food category.
For new readers who may not be familiar with Num Pang, it's the Cambodian version of banh mi.  There are a few differences, but the quality of the food at Num Pang is usually so high, it appeals to lots of different people.
Today's Lunch is the pulled Duroc pork with spicy honey ($8.20 after tax).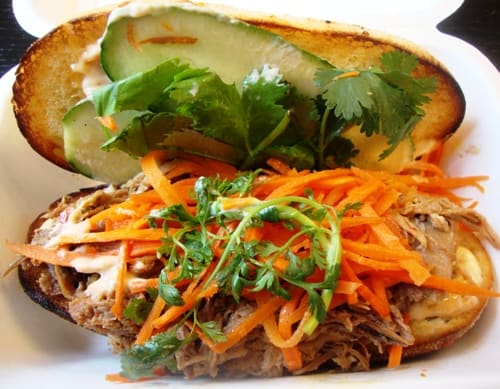 So they start with an oval bun, spread chili mayo on the top and bottom, put on the main course, then top it with shredded carrots, fresh cilantro stalks and thin slices of cucumber.  Except for the main course (beef, pork, fish, veggies), just abot all the num pang sandwiches are made this way.
The pulled pork in this sandwich was slightly sweet and a little salty, but I wouldn't call it spicy.  The pork was moist and delicious, and I actually dripped a little juice on my shirt on the very first bite.  Talk about bad luck.
With the pulled pork, chili mayo and all the toppings, this was a spectacular sandwich.  The chili mayo added some zing, but I wouldn't call the meat spicy.  The cucumbers, carrots and cilantro provided some crunchy texture and refreshing tastes too.
Today's Lunch from Num Pang was excellent, as usual.  In my opinion, Num Pang is one of the best places for under $10 lunches in the city, and I'm glad we can fit it into the Honorary Street Food category.  Otherwise, I would have to get it for dinner much more than I already do.