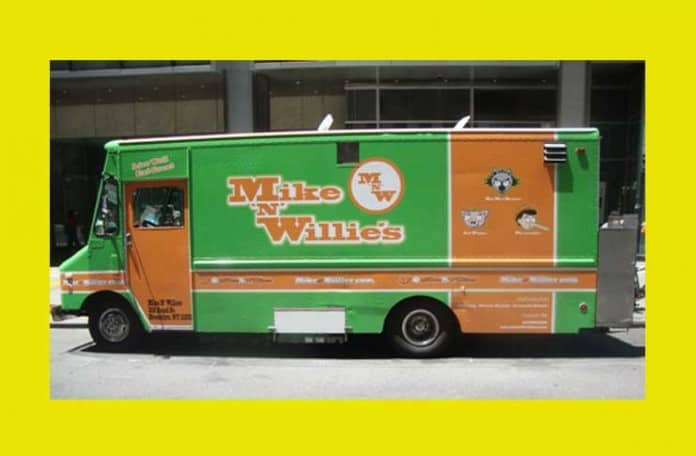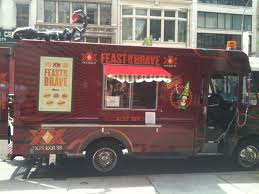 Yes, it's Cinco de Mayo, so expect big crowds at all the Mexican food vendors today – Feast of the Brave, Mexicue, El Rey del Sabor, Eggs Travaganza and more.
There are plenty of other vendors around too, so enjoy this beautiful day outside with some great New York Street Food.
Don't forget to check the Mobile Munchies twitter feed for any last minute changes. Cupcake Crew already had to move from 45th St to 50th St this morning.
Mexicue Varick St & Vandam St @ 11:45!
ETRAVAGANZA
Happy cinco de mayo!!!we have los tacos, los burros ,quesadillas..except the coronas and the mariachis. At the seagram building 52,npark,
gcnyc1
Gorilla Cheese NYC Up all night preping…heading to Park ave south. I'm in the 20's. Late lunch.
RickshawTruck
The trucks are spicy today w/ Szechuan chicken dumplings & chili soy dip! Wall street at Williams, Hudson&Houston, 50&6av & tavern on green
TaimMobile
Bryant Park today! 40th and 6th! Finally warmer and nicer…let's falafel!! Kalamata olive our special today!!
waffletruck Happy Cinco de Mayo! Le Truck is on 46 btwn 5 & 6 til 4:37pm. Do your best Mexican Hat Dance for 1 free dinges. Ole! El Carts! El Goesting is on 40 btwn 7 & 8 El Bierbeek is on Whitehall btwn Water & Pearl El Vedette is on 60 & 5 El wafels are everywhere
biandangnyc 53rd btwn Park and Lexington: ready by 11am!
EddiesPizzaNY (5/5) Happy cinco de mayo. We r on 52nd btwn 3rd and lex w/sweet and sour pie (pineapple and jalapeno) PLUS our… http://fb.me/ABcc7hU5
cupcakecrewnyc Good morning mid-town west!Today Cupcakecrew truck is parked on 50 St btw 6 & 7 Ave w/6 flavors of "LOVE"..Come on over and have a taste! Todays menu:Red Vel,Strawberry chip,PB choc-chip,Oreo,Chocolate caramel & Triple Chocolate. Come by our truck today and show us your best "CINCO DE MAYO" dance move for 1 FREE cupcake of your choice.LOL