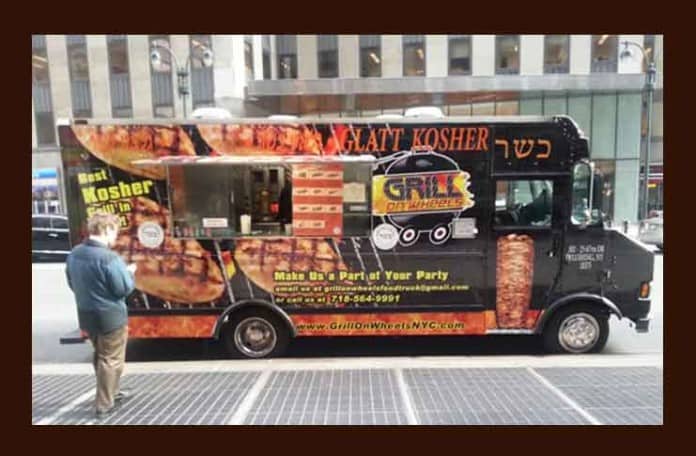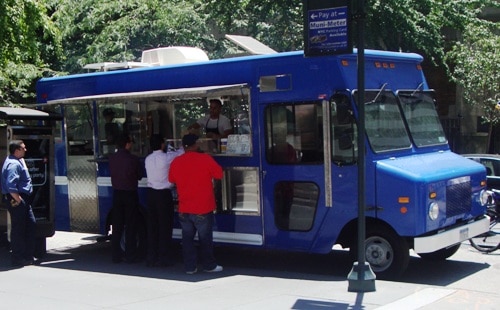 Should be a nice day for some great New York Street Food from the vendors on the right and the trucks below.
Street Sweets has hundreds of samples to give away, but they are not in their usual truck.  Look for them in a black & white Saks Fifth Ave truck – this week only for Fashion Week.  To get the freebies, you have to register first at www.gilt.com/streetsweets.  They are at 52nd & Lex until 2pm, then 86th & Lex.
You can also get a free dinges (topping) at Wafels & Dinges by telling them your favorite NYC food blog is New York Street Food.  They are downtown today at Hanover Square between Water & Pearl.
And don't forget to vote for a few of your favorites too: Vote here for your favorite food truck to be on next season's Great Food Truck Race and vote here to help choose a new motto for the Kelvin Slush truck. The winner gets 10 free slushes.
StreetSweets – Hundreds of free SS samples 2 b given away today @ the special black & white Saks Fifth Av/Str Sweets trk 1st stop Conde Nast Bldg off Times Sq from 10a-2p, then @ 86St/3rd & Lex 2:30p
Mexicue – We're on 23rd and Park today (parking issues on 52nd!) – open at 11:30
fritesnmeats – Hey FiDi! Burger Love is in the 'hood! Were on Water & Broad. Stop by or call ahead & just pick up. 917.292.9226
nyccravings – Broad st. between Pearl st. & Water st. Ready by 12pm!
waffletruck – Seems like so long ago – Hanover Square btw Water & Pearl today. Name your favorite NYC food blog (hah!) for 1 free dinges.
EddiesPizzaNY – happy weds, we are on 52nd and 6th until 3pm. daily special is our fire drill (local hot peppers, hot cherry… http://fb.me/GEdmuGAA
joyridetruck – Joy being served in a cup in both hot and cold forms. Did you know our iced @stumptowncoffee is cold brewed, a 12 hour process.  Stop by Hudson&King to taste the cold brewed difference.
KELVINSLUSH – Reminder we'll be at 5th Ave & 22nd St from 11:30 am – 8 pm today & keep the votes coming for the motto competition: http://bit.ly/bYVojw
schnitzeltruck – Remember today our promotion with @GiltCityNYC @ 11:30-2:00 on park ave & 26th St. You can still buy the promotion at truck #giltcitytreats
miss_softee – getting ready to head out for the day… something smokey, bacon, and chocolate today…. remember the choinky crash?? it's baaaaaack!!
RickshawTruck – Wednesday = Humpday! Chelsea Starrett Lehigh: 26th + 12av as well as Columbus Circle: 57th + 8av. Come show us your end of summer tans!
ETRAVAGANZA – Morning folks september is the potato month please join us for our delicius mexican wraps. Our mexican grilled cheese is rockin!!come n get yours we r @ 52 n park, with jalapeno on 7 grain.
schnitzeltruck – Get your extreme exclusive discount schnitzification on tomorrow with us and @GiltCityNYC on park ave b/w 26th & 27th.. #giltcitytreats
CupcakeStop – Wed: CupcakeStop truck on 99th & Madison and our 2nd truck will be busy making a lot of Pace University Students happy for Welcome Week!
VLAIC – 5th & 15th till 5:15pm, 5th & 23rd till 6pm, Greene & prince till 7:30pm, Bleecker & Charles till 7pm, Bedford & n. 7th till 12am
CalexicoCart – Come on down to Wooster & Prince for the gringo especial: fresh ground beef simmered in roasted garlic, cumin and chili de arbol. Enjoy. We are now open 7 days a week @ Pier 1 in the BK Bridge Park. 11:30 AM to 9 PM!
LCBBurgerTruck – 111 Wall St is where the grill is sizzling with our famous burgers. Check out website for 1x year blow out sale http://lacensebeef.com
GuerrillaIC – Just announced our End of Summer Party flavors, as voted by you! Make sure you grab your tickets at a discounted price http://bit.ly/ctBGI1
biggayicecream – I'm happy to announce @JaneWiedlin's "Big Gay Ice Cream Song" is now available on Amazon! http://tinyurl.com/BGICamazon GO, BUY, REVIEW!
PapaPerrone – Papa Perrone's will be back on Tuesday September 14. We will have Calzones.