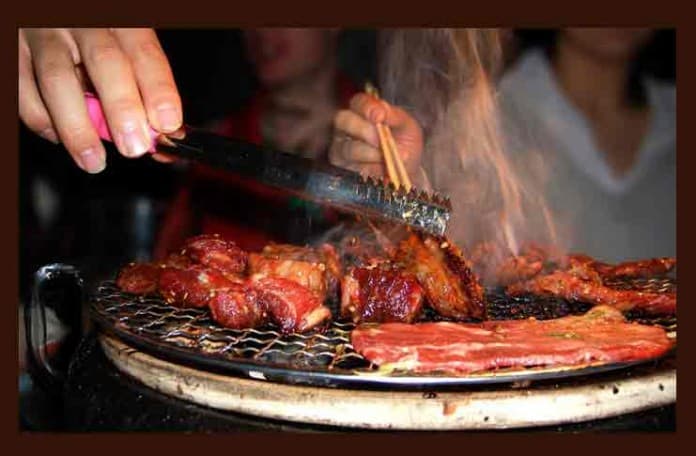 Yesterday's lunch at Teriyaki Boy got me thinking about the Honorary Street Food category.  When this happens, I often end up at Num Pang at 21 East 12th St, just west of University Place.  It's one of my favorite places for lunch, and Today's Lunch is Ginger BBQ Brisket with Pickled Red Cabbage ($7.75).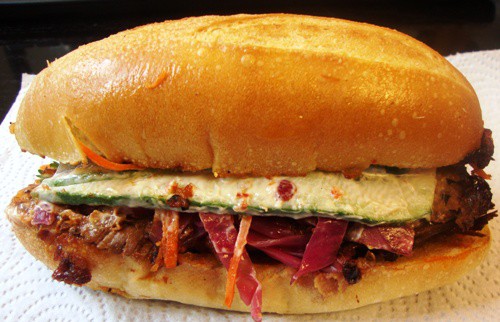 Num Pang is the Cambodian version of banh mi, but there are some distinct differences.  Both are served on baguette-style bread with meat or vegetables and toppings, but num pang does not include pate or pickled daikon.  What is included is delicious.  Find out more after the jump.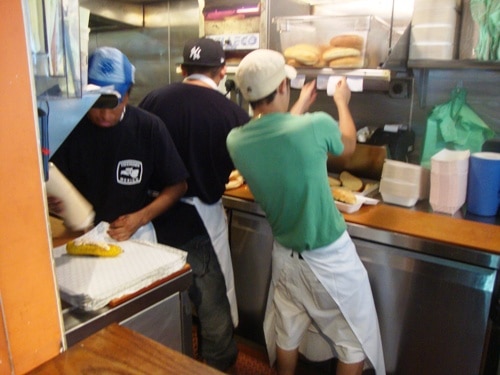 When you walk up to Num Pang, you order from the sidewalk through a window, and in addition to the cashier, there are three people working in a tiny space cranking out the sandwiches.  I don't know how they maneuver around each other, but it works.
As for the food, there are probably some regional differences in Cambodia, but this version includes thinly-sliced cucumbers, shredded carrots, fresh cilantro and chili mayo along with the main ingredients of ginger bbq brisket and pickled red cabbage.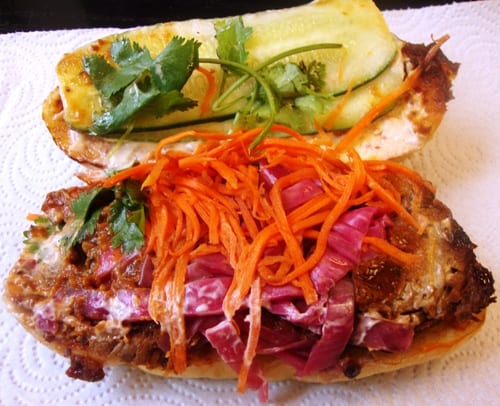 The first bite was heaven.  Soft, shredded brisket with some cucumber, carrots, and a little heat from the chili mayo.  They included hot sauce in the bag, but it wasn't needed with the chili mayo.
The second bite is when the ginger started coming through, and more heat, too.  The brisket was large and thick, and with the other toppings, this was a serious sandwich, which took a lot to bite through it.  Not because it was tough, but because you need a big mouth (which I have).
The sandwich got a little messy towards the end, but stuffed sandwiches often are – and the tingling in my mouth lasted for a good 15-20 minutes after eating.  It wasn't a brutal heat – it was more of a gentle tingling.
Today's Lunch gets a very high 9.5 out of 10.  The combination of flavors was outstanding, and the quality of the ingredients was excellent.  At $8.45 after tax, it's not the best value around, but they do have to pay rent.  This is definitely one of the best sandwiches around as far as taste.  From past experience, I can tell you their grilled corn on the cob with chili mayo is excellent too.
As long as I'm near the Union Square area for lunch, I'll be coming back to Num Pang on a  regular basis.