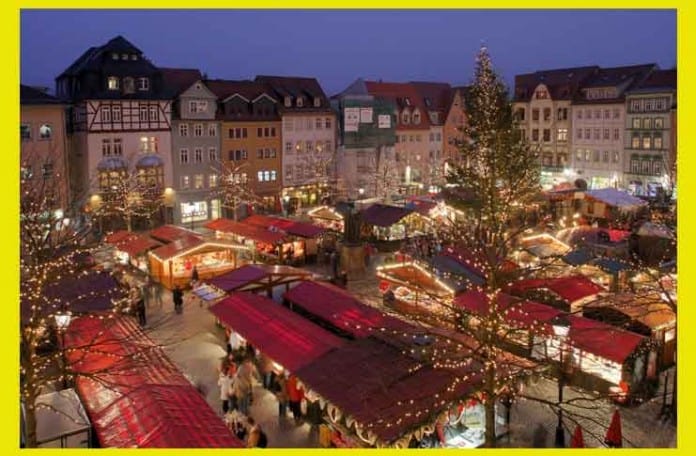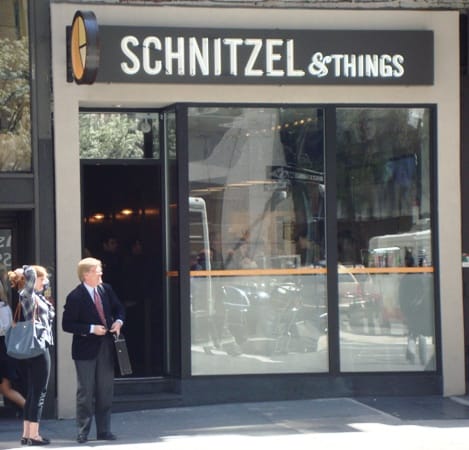 The news that Mexicue is opening a restaurant this summer was a reminder that I hadn't yet been to the Schnitzel & Things restaurant at 723 Third Ave, between 45th & 46th St.  It's still relatively new, having only opened about a month ago.
As I've said in numerous interviews, reading about and then trying the Schnitzel & Things truck in the summer of 2009 is what got me interested in street food in the first place.  It's fair to say at this point that S&T changed my life, or at least laid out a new path that I am still happily traveling down.
It was great news about S&T opening a restaurant, even though it's nowhere near my office for lunch.  But I gladly headed over to the new S&T restaurant for Today's Lunch.
Everything on the truck is available here, and there are some new items as well on the main and salad/dessert menus.
Now you can get most of the schnitzels cut up into a salad with your choice of toppings.  They also have a new grilled ginger chicken dish, and some new side dishes, like sweet potato fries, which I usually love.
They also sell desserts from their fellow Vendy Award winners, the Treats Truck, and just this week have started importing Robicelli's cupcakes from Brooklyn.
Today's Lunch is one of the new menu items, eggplant schnitzel ($9.95 for a platter with 2 side dishes or $8.50 for a sandwich).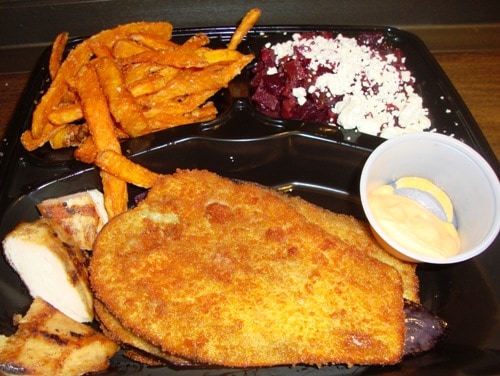 The S&T restaurant is small, with seating for 12 at 3 shared tables with 4 stools each.  This means they are also a perfect candidate for our Honorary Street Food category – a storefront with only a few seats.  There were 2 other guys at my table, and we had a nice conversation about S&T, food trucks and a few other things.
As for the food, I've had their chicken, pork & cod schnitzels at the truck and loved them.  I never used to like eggplant, but have taken more of a shine to it, and thought deep-fried eggplant would be good.  But I was wrong…it was great!
The deep-fried breading gave the outside some firmness and crunch, but the inside was soft as butter and melted in my mouth.  Deep-frying anything makes it good, but doesn't necessarily make it great.  This was great.
And there were 3 large, thin slices of eggplant in the order.  At first I thought there were 2 slices, but as I was eating, it became apparent there were 3 eggplant pieces.  I also got sriracha mayo as a condiment, which was perfect with this dish, adding a little spiciness to the proceedings.
For side dishes, I got sweet potato fries and beet & feta salad.  As I said, sweet potato fries are a favorite of mine, and there were nice and crispy on the outside and soft inside.  I know I said that about the eggplant, but it was true about both.  I wouldn't say the sweet potato fries melted in my mouth, but they aren't supposed to.
And I never liked beets in the past, but S&T's beet & feta salad and Mexicue's BBQ beet taco with goat cheese have gotten me over the hump.  Now I like beets, which are one of the healthiest veggies you can eat.  I guess it helps to pair it with a good cheese.  The beet salad was cool and refreshing.  I just had to be careful not to get any on my shirt, because it stains pretty good.
Today's Lunch at the new Schnitzel & Things restaurant was excellent.  The food is just as good as on the truck, and there are a few more items to choose from, plus desserts.
I am now fully converted to liking both eggplant and beets, and Schnitzel & Things is partially responsible for that, as well as for my foray into the street food world in the first place.  Thanks Oleg, Hannah, Gene and everyone at S&T for your awesome food!