Are you looking for some healthy lunch ideas?
Eating out can be a challenge when you're trying to stick to your diet. But it doesn't have to be hard – we've got 10 great options for you right here. 
All of these lunches are delicious, and nutritious, and will help you to keep on track. So, go ahead and order one of them today – we promise you won't regret it!
1. Salads
There are so many delicious salads available at restaurants these days, from simple garden-style salads to more elaborate options featuring fruits, nuts, and other ingredients that add flavor and texture. Whether you opt for a classic Caesar salad or something a bit more unusual like quinoa or kale, you can be sure of getting plenty of nutrients with your lunch when you order a salad.
2. Soups and Stews
Another satisfying option is soup or stew. These hearty dishes typically contain lots of vegetables, beans, whole grains, or lean proteins like chicken or shrimp. They're also usually very filling, so you won't need to worry about being hungry a few hours later.
3. Sandwiches
If you want something easy to eat and portable, consider ordering a sandwich for your next lunch out. Many restaurants offer delicious sandwich options, from classic turkey sandwiches with lettuce and tomato to more creative creations including spicy chicken or grilled vegetables.
4. Tacos
Another tasty option is tacos, which are often filled with beans, rice, shredded meat or fish, avocado, and other healthy ingredients. Plus, the portion size of a taco is usually pretty small, meaning it can be easy to stick to one or two tacos if you're watching your calorie intake at lunchtime!
5. Wraps
For something a bit different, you may want to try ordering a wrap for lunch instead of a sandwich. These portable treats are typically made with soft tortillas or other flatbreads and can include all kinds of delicious fillings, from lean meats like grilled chicken to flavorful vegetables or cheeses.
6. Sushi
If you're craving seafood at lunchtime, sushi is an excellent choice. Not only does this classic Japanese dish contain plenty of heart-healthy omega-3 fatty acids and protein, but it's also usually very low in calories compared to many other restaurant meals. Just be sure to choose rolls without too much-fried tempura batter or creamy sauces for the best health benefits.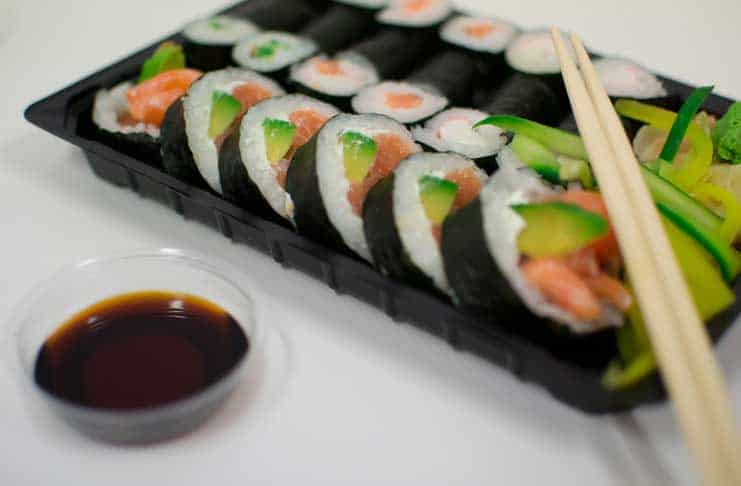 7. Quinoa bowl
Another super-healthy lunch option is a quinoa bowl, which most often includes some combination of roasted vegetables, beans, grains, and lean protein. These bowls are also usually very filling thanks to their mix of ingredients and can provide you with lots of energy for the rest of your afternoon.
8. Poke bowls
Yet another delicious option for a healthy restaurant lunch is a poke bowl, which consists of bite-sized pieces of raw fish that are typically mixed with soy sauce or other seasonings and served over rice or greens. This tasty dish delivers plenty of nutrients while also being easy on the stomach and low in calories!
9. Burgers
Of course, it's important not to forget that many restaurants also serve burgers and sandwiches with plenty of lettuce and tomato. You can order your burger without cheese or fries if you prefer, making it a guilt-free choice great for those times when you just need something comforting and satisfying at lunchtime!​
10. Smoothie or fresh juice
Finally, if you're in the mood for something a bit light, you may want to treat yourself to a fresh smoothie or juice. Many restaurants offer these healthy beverages as part of their breakfast and lunch menus, so you don't even have to leave your office building to enjoy one on a busy day!
Summing Up
If you're looking for a healthy and delicious business lunch option, look no further than these 10 healthy lunches. From light salads to heartier options, there's something on this list for everyone. And now, you'll easily find restaurants for business lunch on nicelocal near you. So next time you need to impress a client or colleague, don't settle for just any old lunch spot – choose one of these top-rated restaurants instead.
Jennifer Bell is a freelance writer, blogger, dog-enthusiast, and avid beachgoer operating out of Southern New Jersey.