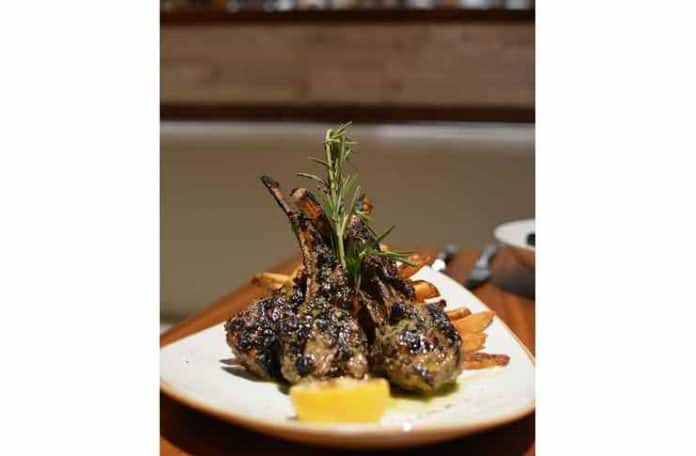 Prior to 2008, I would have never voluntarily eaten octopus. My extremely sophisticated Midwestern palate was not accustomed to food with tentacles and suction cups. Then I moved to Japan, and discovered the wonder that is Takoyaki. In fact, I lived in a seaside town famous for its octopus and even its own local octopus delicacy known as Akashiyaki. Living there, I loved eating octopus.
After moving back, the U.S. and the glory that is basic cable, I watched my share of nature shows and learned that octopi are extremely intelligent; they use tools, solve puzzles, and predict World Cup winners. Faced with a moral quandary over eating something clearly so intelligent, I stopped eating octopus; also, I wanted to hedge in case octopi ever lept up the food chain became our overlords (you never know!).
Fast forward to October 2019, and I am at Amylos Taverna in Astoria. Their menu is a cornucopia of amazing, innovative dishes like Moussaka Croquettes (amazing!) Greek style Mac & Cheese, and Dark-Ale Lamb Shank; however, by far one of their most popular dishes is their Sushi Grade Octopus.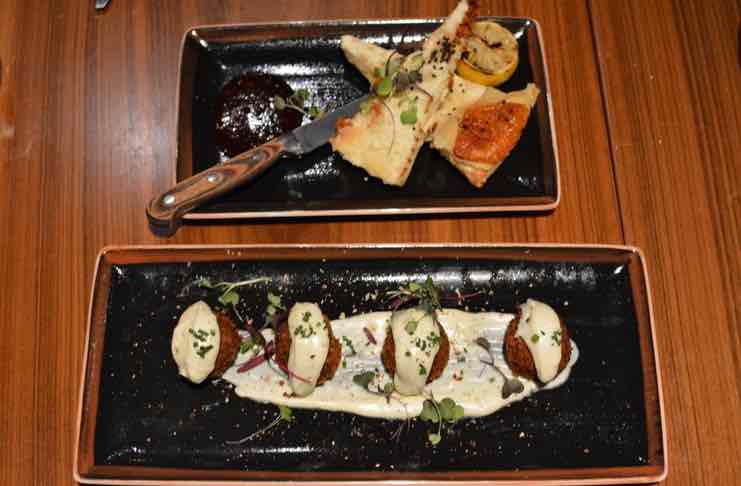 Reader, I will have you know then when faced with the dilemma between my own dietary moral code, and my duty to offer my readers the best insights into the restaurants I review, I chose my duty to you. As a reward for my dedication to duty, I was served the best Octopus. I have ever had—and as I mentioned earlier, I kind of know good octopus.
The Sushi Grade Octopus at Amylos was faultlessly chargrilled, making it crispy on the outside, but more tender on the inside than I ever knew was possible for octopus. The plate was composed beautifully with a yogurt beet sauce on the side and the octopus was served on top of a fava bean puree and pickled onions. I am also happy to report that even next day leftovers of this dish are incredibly enjoyable.
While the Octopus was the highlight, the entire meal was consistent throughout, with each innovative dish diligently prepared by the Chef. In particular, I really enjoyed the Saganaki. Yes, I imagined that fried cheese would be delicious, but I never expected something so simple to also look so elegant. The tomato jam served with the Saganaki provided an excellent hint of sweetness to the dish. The Salmon Tartare was a delightful melody of salmon, avocado, and honey. Notably, the freshness of the salmon further demonstrated that Amylos has strict standards when it comes to the quality of their ingredients.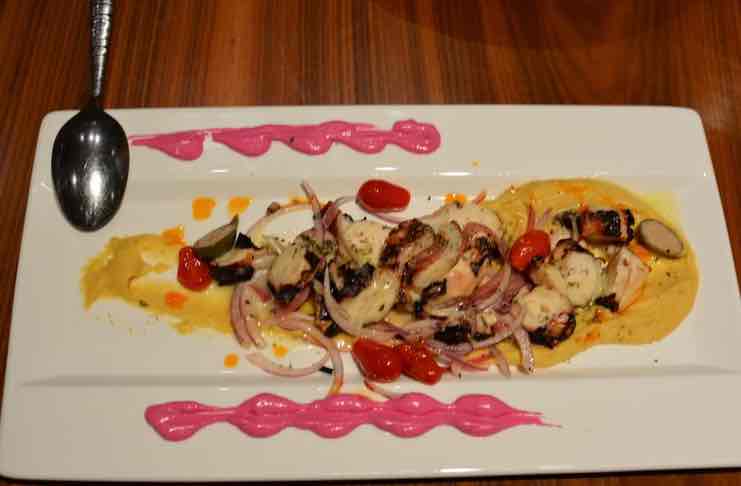 For our mains (miraculously, there was room for more food) we ordered the Lamb Chops and the Seafood Truffle Risotto. The Risotto was flavorful and had a creamy texture that would make a Top Chef Judge beam. The Mussels, Clams, and Shrimp all maintained were excellent and were all cooked and seasoned flawlessly. Similarly, the Lamb Chops were fantastic. I am on record as declaring that Lamb is the best of all the meats.
Luckily, my dining companion was kind enough to share some of hers with me. The Lamb was cooked to fall off the bone tenderness and lightly seasoned as to allow the meat to do the talking. The chops were served alongside hand-cut friends seasoned with oregano, olive oil, and a hint of lemon emulsion. I would eat this dish weekly if I could.
In addition to the outstanding cuisine, the bar at the Amylos Taverna, serves signature cocktails that run the gamut of liquors. Whatever your drink of choice, Amylos has a signature cocktail for you. The Dirty Greek is an inventive twist on the dirty martini, replacing the traditional olives with kalamata olives filled with feta cheese. Per our waitress's recommendation, I ordered "The Muse" a Grey Goose Vodka Cocktail with Italicus Bergamot Liquor, a Passion Fruit Puree, Lime and Cinnamon Syrup. The concoction was not only a delight to drink—the perfect amount of sweetness—but visually elegant as well, drawing attention from the diners around us.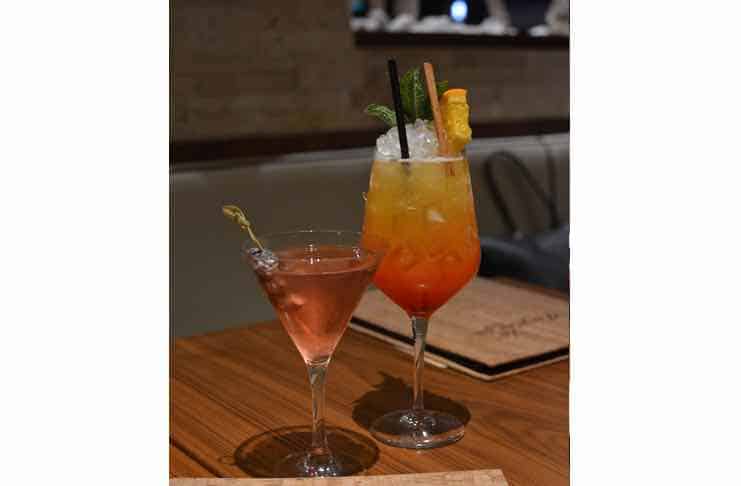 Amylos Taverna delivered excellence in every facet of the dining experience. The interior of the restaurant is stylish, yet not ostentatious, and the service is both warm and knowledgeable. While I personally don't plan to eat Octopus again anytime soon, my experience at Amylos Taverna has made that sacrifice bigger while also letting me know the first place I will go should I change my mind.
Ted Reilly lives and eats in New York City and can count the number of times he's said "no" to ice cream on one hand. As a teenager in the Midwest, his daily lunch diet consisted of mall pizza and/or Burger King. His passion for food developed as a college student in New Orleans where he regularly attended crawfish boils and sought out the best jambalaya. Since then he's been an avid consumer of okanomiyaki, 回锅肉, and [anything] curry. He loves traveling but knows that you can find any dish you want somewhere in Queens.