"Let me take a picture of the façade!" My photographer/dining companion steps slightly into the street to get a more panoramic view. It is a really good thing that he is doing this and not me, because I would completely forget to take photos to begin with. The air feels misty; it's going to rain later. There is the usual assortment of midtown Manhattan garbage littering the car-lined streets. 
The sidewalks are too narrow to avoid the occasional shoulder check and subsequent dirty look. And yet, the flaming bellows of the city grow quiet as we step inside. Soft café music floats from somewhere. The walls are golden and candlelit. There are gilded mirrors on the ceiling. I give my name and we are immediately escorted up a wrought iron staircase. It is warm, although not uncomfortably so, and we are given hot towels for refreshment. 
The Beverages at the Consulate
Our waiter for the evening is Javier, and he is tall and impeccable. In fact, the entire staff is immaculately dressed, with every employee adhering to what I can only guess is a strict dress code. Admiring the crispness of their pressed suits is a welcome distraction from the fact that I am currently stuck in the funny crack between the seat cushions of the bench. Javier lets us peruse the drink menu before requesting our orders.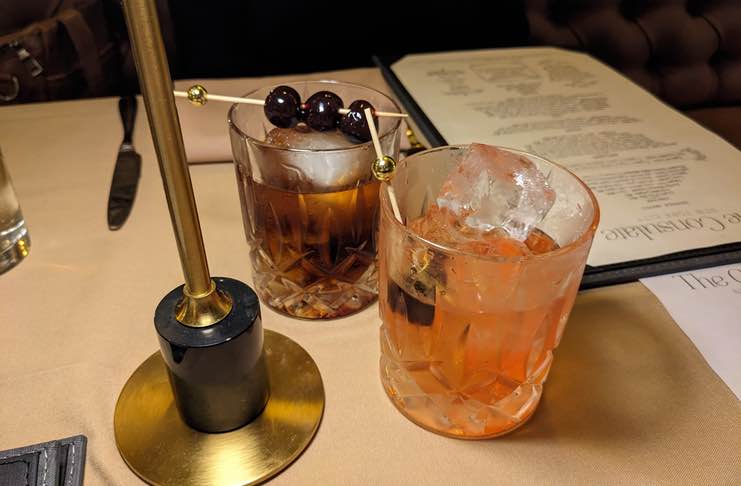 For me, it is The Booze & Blues, with cognac, coffee liquor, and walnut bitters. It is not quite creamy but thicker in the mouthfeel than expected, a little smoky and pleasantly nutty, with a clean finish. My dining companion compliments the rich flavor, comparing it to a melted chocolate bar. It is garnished with delicious cherries that are the adult version of the neon red maraschino ones that top ice cream sundaes, and only get more delightful as I take my dining companion's advice and soak them in the cognac. 
My companion's first drink is The Consulate Old Fashioned, made with bourbon, mezcal, angostura, and bitters, and tastes like an old gas station. I wish I were joking, but I'm not. Neither he nor I can truly determine the source of the taste, which is a combination of diesel and burnt rubber, but it is overwhelming and prevents me from tasting anything else. My eating companion notes its "strange astringent flavor," and with that, we politely request a replacement, which Javier graciously permits.  
His replacement beverage is a classic mojito, and neither of us have complaints. It is refreshing, minty, and (almost) completely erases the memory of the old-fashioned.
The Appetizers
The appetizers arrive at the same time – a giant crab cake and bone marrow toast. The former, with lump crab, lime coleslaw, and sriracha mayonnaise, is simple but well executed. The ratio of crab to everything else is perfect. Even though the crab cake is ostensibly the star, both my companion and I lavish praise on the slaw, which is light, snappy, and surprisingly herbal.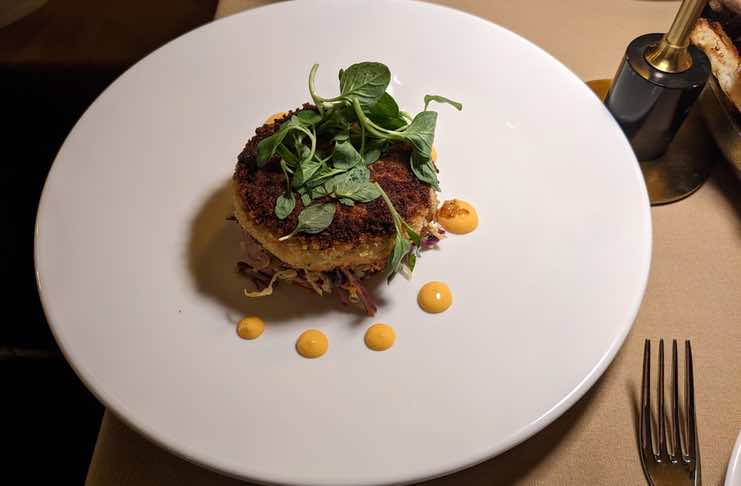 The two slabs of bone marrow are garnished with port fig jam and are served with two of the most delicious pieces of toast I've ever had. The toast, which is pre-buttered, despite almost being slathered in shameless amounts of what can only be described as meat butter, yields a surprisingly satisfying crunch for such thinly sliced bread. The crust has sesame seeds. 
It is deafeningly crunchy, delightfully crispy, and so aromatic that it hardly needs the bone marrow. But we all must make sacrifices, so we alternate between generous schmears of marrow and equally generous dunks of our toast into the overflowing pools of melted meat butter. It is as good and as euphorically decadent as it sounds, possibly more. (Says my companion: "You could probably drink this out of a glass!") We run out of toast after our first bone and ask for more. The tiniest cast iron skillet resting on top of a stone slab is brought out. Inside are more toasts. We gratefully accept. 
The adjacent table orders the shrimp toast, and after seeing it (they include the heads, and the shrimp looks deep fried to crispy, jumbo seafood-sized perfection), I develop an extreme case of food envy. It looks and smells amazing. 
The Mains
I ordered the steakfrites, which involves a very rare hanger steak, fries, and a peppercorn sauce, all of which are very tasty and very good (although truly, can anything even light a candle to the heavenly, mustardy, umami-laden steakfrites at Café de Paris in Geneva, Switzerland?).
The hanger steak is well seasoned and sliced to perfection, and the sauce is buttery and pairs as well with the steak as it does the fries. The fries are my favorite part, the perfect thickness at almost-but-not-quite shoestring, and so light and crispy that one could nearly forget exactly what they are (deep fried potato).
The Beef short rib with chimichurri and crispy smashed potatoes
My dining companion chooses the chef's daily special, a beef short rib with chimichurri and crispy smashed potatoes. He orders the short ribs medium rare but finds the cut of beef a tad chewy, so we switch plates. I have no qualms about chewy meat and am more than happy to swap, although admittedly after the bone marrow, I find myself quite sated and end up taking the rest of the short rib to go. The chimichurri is a little oily, and I wish it had more herbs and less allium, but is tasty nonetheless. The crispy smashed potatoes are excellent – smashed almost completely flat, and deep-fried for maximum crispiness.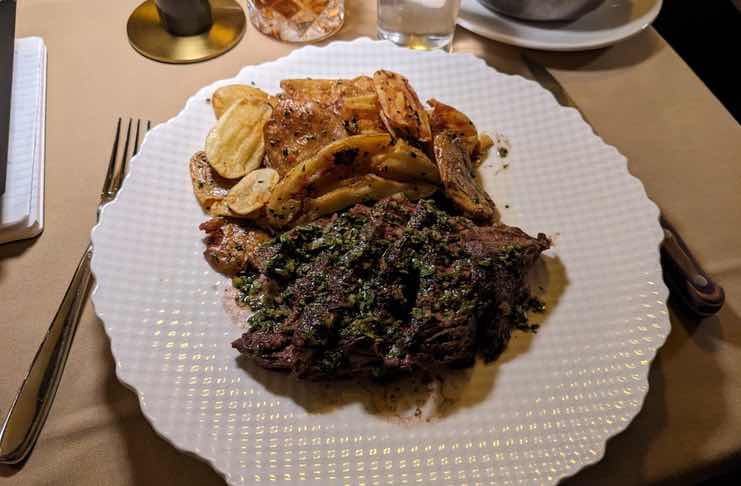 The potatoes au gratin isn't supposed to happen. I ask if I can get a tiny piece to taste, and end up with the full side dish. One bite in, and we're not complaining. The champion of the potato wars (we have now consumed potato three different ways tonight), it is crispy on top, with burnished cheesy edges, and creamy in the middle. The potatoes are excellently cooked and are not mushy. It is buttery and luscious and, even though I am too full to continue eating the short rib, I find I am not too full to demolish the rest of the gratin. Miracles do happen.
The Dessert
We are blessed with not one, but two desserts tonight: an apple cinnamon tart with vanilla ice cream, and their pineapple upside-down cake with mango orange sorbet. They arrive and my companion immediately pulls the apple tart towards him. I look up after trying the tiniest spoonful of sorbet (soothingly acidic after the considerable amount of animal fat I have now consumed), and the entire tart is nearly gone.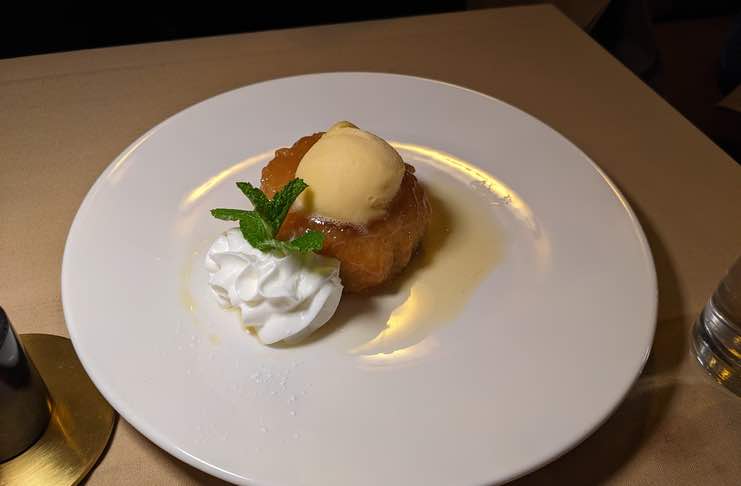 I manage one spoonful (which he tries valiantly to steal) before relinquishing the rest. It is good – sweet and tangy apples, not overcooked, with the right amount of cinnamon so as to balance the fine line between earthy and aromatic versus gritty and vaguely dirt-tasting, encased in a shell more reminiscent of a very elegant apple dumpling than tart. My companion barely has time to note, "It should be illegal to be this delicious. I'm calling the Apple police," before inhaling whatever is left.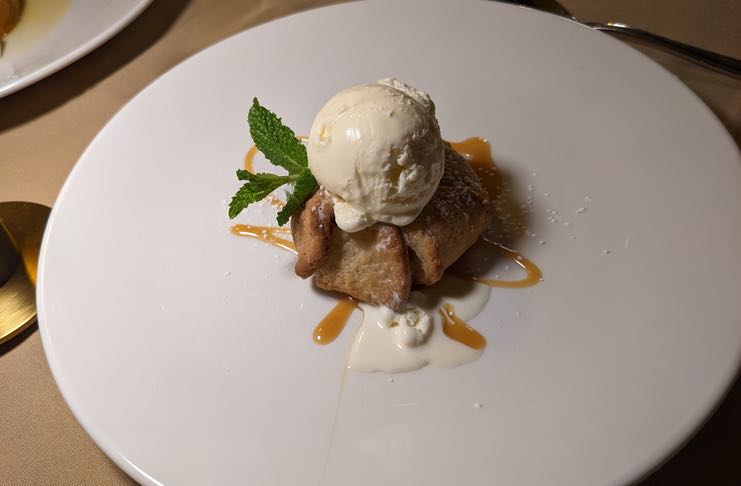 At this point in the evening, however, I have eaten more than my fair share of bone marrow, deep-fried potato, fatty steak, and cheese, and am more than happy to return to my pineapple cake. It is plump and moist, yes, but refreshing and zingy too. The sorbet melts quickly, infusing the cake with a superb tropical aroma. The entire cake is delicious, but for once, I do not wish it were bigger. 
Overall Impression
The Consulate is dressed to impress. From the lacquered walls and gilded mirrors to the hot towels and pressed uniforms of the staff, everything is elegant, and loudly so. The food, too, is designed and plated to make a statement. The entire experience is very polished and, amusingly, not terribly French. The waitstaff, however, is impeccable and perfectly attentive and exceedingly polite, and I would recommend this restaurant for their service alone. It is a lovely spot for date night or any occasion that requires a degree of finery.
Three Best Bites
3. Hanger steak – excellently prepared and very tasty with the sauce and fries.
2. Au gratin potatoes – crispy, creamy, and not even the slightest bit mushy, this side dish ended up being the star of the main courses.
The toast for the bone marrow – I'm not even including the bone marrow. Just give me more of the toast.
Bathroom Corner
One of the cleanest, most luxurious-smelling bathrooms I've ever encountered in midtown Manhattan. Soft French music is playing, and everything smells like lavender, a polished wooden toilet seat and lid, and the toilet paper is so cushiony. 
For more reviews check Yelp, and here's the Consulate's Instagram.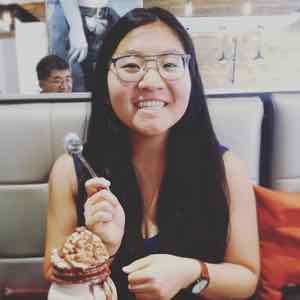 Katherine Chin was raised in upstate New York and grew up with the mindset that good food can, and does, exist anywhere. Now living and working around Manhattan, she spends most of her breakfasts pondering what she'll eat for dinner. She advocates for food that tastes good, and believes that sharing is caring – the best food is often eaten together. You can find her either walking or eating anywhere in Manhattan, when she's not planning her next food-centric adventure.