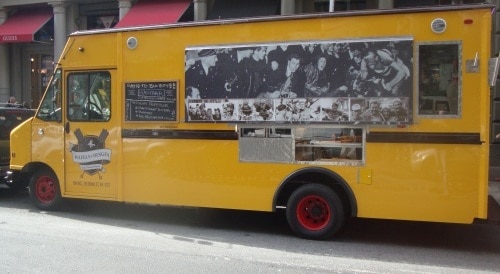 Just in time for summer, Wafels and Dinges, one of our favorite street vendors and winner of the 2009 Vendy Award for Best Dessert, is introducing high quality, gourmet ice cream flavors with a Belgian flair created by Benoit Gerin at Mont Blanc Desserts (formerly of Jean Georges).
The (now five) flavors, sold exclusively by Wafels and Dinges, are:
Belgian Madness
Flamboyant Framboise
Speculoos
Choc-Claude Van Damme
Tahitian Vanilla
Click through for descriptions of each flavor, some of which are made with Belgian beer!
BELGIAN MADNESS – The combination of Hoegaarden, a popular Belgian white beer, and honey makes this an absolute summer treat.  Its refreshing taste has touches of citrus and lemon.
FLAMBOYANT FRAMBOISE – Lindemans Framboise, a Belgian raspberry beer, gives this new ice cream flavor a deliciously fruity taste.
SPECULOOS ICE CREAM – Speculoos is a Wafels & Dinges staple.  The iconic gingerbread cookie and vanilla spread now is available as an ice cream treat perfect for hot summer days.
CHOC-CLAUDE VAN DAMME – Just like Belgium's most famous action star, this dark Belgian chocolate ice cream kicks butt!  Choc-Claude Van Damme's main ingredient is loads and loads of dark Belgian chocolate — making it richer, darker, and more muscular than any other chocolate ice cream.
TAHITIAN VANILLA – W&D will still keep their staple Tahitian Vanilla Ice Cream from Benoit available at all times.
Wafels and Dinges has 2 trucks and 3 or 4 carts around the city.  You can find their locations on twitter here, their website here, or our Mobile Munchies twitter feed.