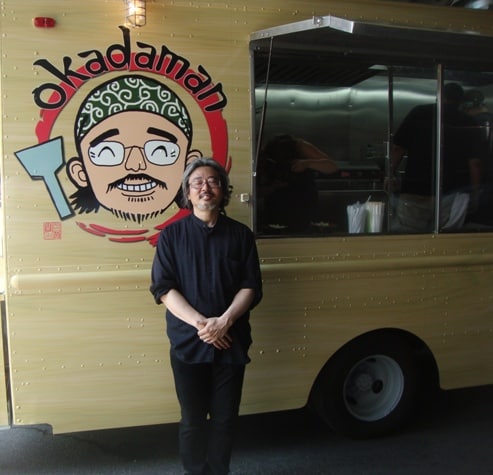 Yes, there is an Okada, and he is the master chef of Okadaman NYC.  His name is Okada Yasuhiko ("Okadaman"), and during his college years, Okadaman grew fascinated with okonomiyaki and takoyaki.  Ever since then, he has been seaching for the perfect recipe, and now he will be sharing his creations with lucky New Yorkers.
Yesterday we were invited out to the commissary in Queens for a sneak preview of what they will be serving, and we have to say, this is one of the most exciting and interesting food trucks to hit NYC in quite some time.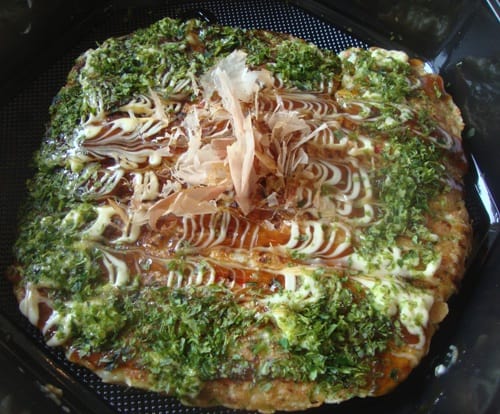 The star of the show is okonomiyaki, a Japanese omelette/pancake hybrid made with a variety of ingredients.  Okadaman made a calamari one and a pork one when we were there, but we only got to try the calamari.  (The reporter from the Daily News took the pork one.)
It all starts with a special batter of eggs and yams, to which chopped cabbage, red ginger, tempura bits, nori (seaweed) and sauces are added.  Once it starts to solidify on the grill, the protein is put on.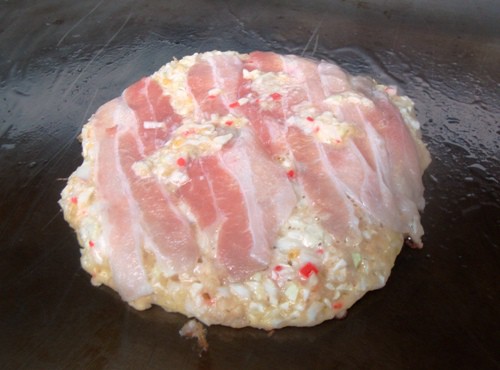 Then it's flipped over.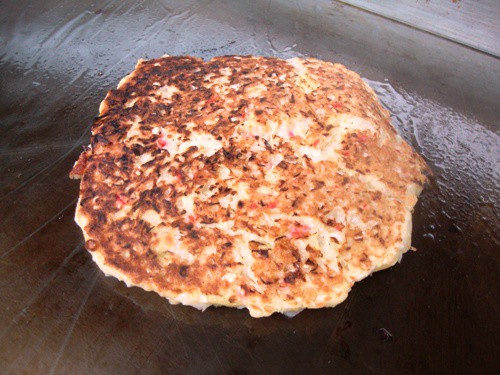 But where the true magic takes place is in the toppings.  The okonomiyaki is topped with okinomi sauce (a sweet brown sauce), Japanese mayo, nori and bonito (tuna) flakes.
Not only are the ingredients top-notch, but the presentation is gorgeous.  Take another look at the photo above of the finished okonomiyaki – it's almost too beautiful to eat. (I said almost.)
Not being an expert in this type of cuisine, it's kind of difficult to describe, but there was a little sweetness from the okinomi sauce, some fish flavor from the bonito flakes, a little creaminess from the mayo, egginess of course, and the calamari was tender and delicious.
There were several other things to try, like takoyaki, so let's move along.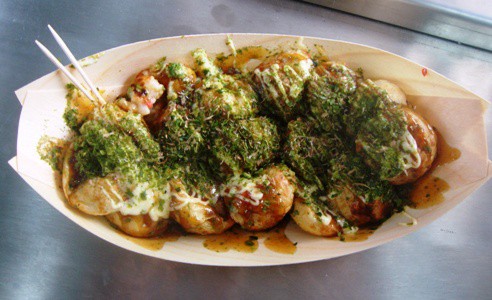 Takoyaki, the co-stars of the show, are fried octopus balls.  The outside is lightly fried, but the inside is soft and batter-y with small pieces of octopus.  It's topped with Japanese mayo, a light brown sauce and nori.
You have to be careful not to burn your mouth with takoyaki, because you need to eat it in one bite, and the inside gets very hot.  It's not bready, but more like a hot, thick batter inside.  Octopus can sometimes be chewy, but these were not at all.  Excellent!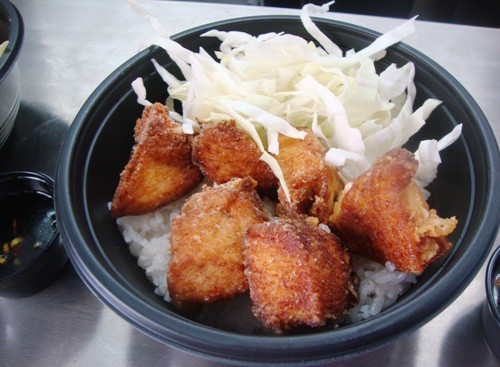 Kara-age (aka fried chicken) will be more familiar to American palates, but this has a Japanese twist as well.  The breading at Okadaman NYC is made with a potato starch-based flour brought over from Japan.  The chicken is served over rice, and on the side is napa cabbage and ponzu sauce.  There is also a sweet and sour sauce on the menu.
One of the owners told me that 9 out of 10 ingredients on the Okadaman truck come from Japan, because they couldn't find similar ingredients here.  That might be a bit of an exaggeration, but even if 5 or 6 out of 10 ingredients come from Japan, that's still pretty impressive.
The napa cabbage at Okadaman NYC comes from a farm in upstate NY, and we were told the rice comes from Japan too.  It was really good, and should not be overlooked.  My wife, who joined me for this expedition to Queens, said the rice were like little pearls, which is a huge compliment.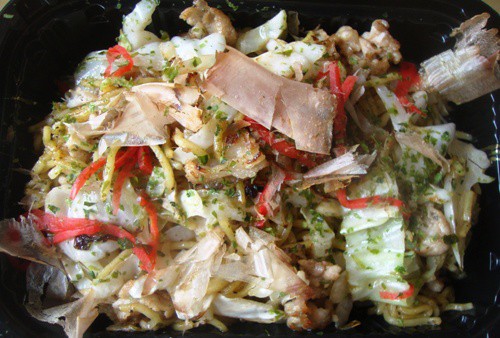 The last dish we tried at Okadaman NYC was yakisoba, a noodle dish with red pickled ginger, napa cabbage, nori, bonito flakes, and a secret sauce that we couldn't get any info about.  They were tight-lipped on that one.
One of the chefs told us confidentially that yakisoba was his favorite dish, even though the other dishes get more attention.  We can see why. The noodles were springy, and the mix of tastes and flavors was great.
What's even more amazing is that every dish is in the $6.50-$8.50 range!
As we said in a previous post, Okadaman will be offering the following lunch specials, so you can sample more than one item:
1 – ½ Okonomiyaki & 3 piece Kara-age – $8.00
2 – ½ Yakisoba & 3 Karaage – $7.00
3 – ½ Yakisoba & ½ Okonomiyaki – $7.50
4 – 4 piece Takoyaki & 3 piece Karaage – $6.50
They are also finalizing some deals for Foursquare/Yelp check-ins, Facebook likes, and Twitter follows.
Locations are still being determined, but on Friday the 22nd (their first day), the truck expects to be on Park Ave in the high 40's for lunch, and by Astor Place for dinner.
Okadaman will be open from 11am-9pm 7 days a week.  Follow Okadaman on twitter here or on our Mobile Munchies twitter feed. you'll be glad you did.