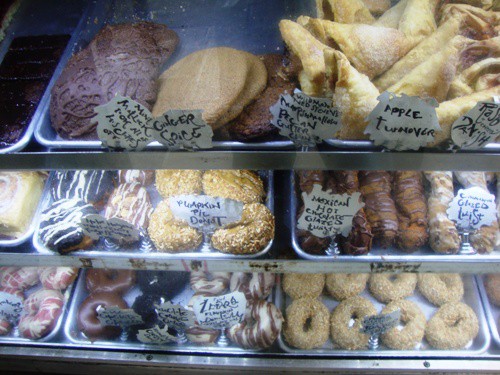 Everybody raves about the savory food at The Cinnamon Snail, as well they should, with Adam & crew having two Vendy Award nominations under their belt.
But at the 2011 Vendy Awards, The Cinnamon Snail won the Maker's Mark Challenge for a dessert.  People attending the event voted Adam's vanilla bourbon creme brulee donuts as the best use of Maker's Mark bourbon in a recipe.
So in addition to great vegan food, Adam is also a master baker.  That should come as no surprise since a cinnamon snail is actually a pastry, but it's no mean feat when you can't use eggs.  The window on the truck (above) looked wonderful, so I asked for a sample of different baked goodies and let them choose for me.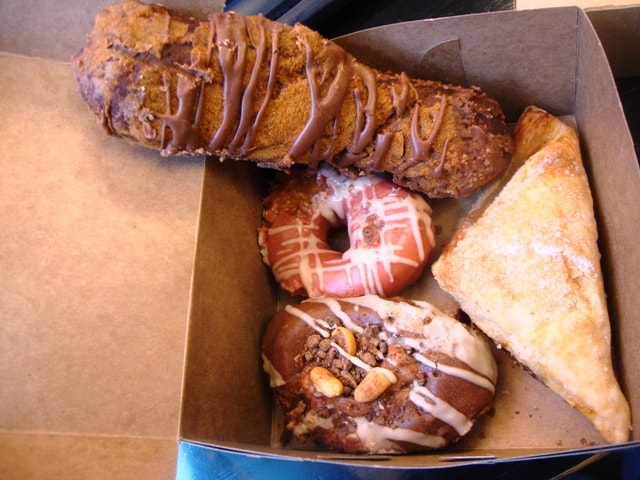 When I opened the box, there was a cruller, two donuts and an apple turnover.
I started with the cruller, which had Mexican chocolate glaze on it.  This was a BIG pastry that could easily hold you until lunch if you had it for breakfast, but it was more of a dessert.  The chocolate glaze had a little bit of spice to it, but it wasn't spicy.  It was yummy though, and filling.
The chocolate and peanut donut was next, and it had that sweet and salty thing going on.  The donut glaze was very sweet and the peanuts were salty.  I'm not sure what Adam uses for donut dough, but the dough was definitely richer than other donuts I've had.
I gave the strawberry creme donut to a co-worker, and while I didn't get detailed feedback, they did say it was delicious.  They had no idea it was a vegan donut, and were quite surprised when I told them.
The apple turnover was a good way to end.  I've always loved apple, whether in pies, pastries or anywhere.
The apple turnover was much less sweet than the donuts.  There was a nice, strong taste of apple in the filling, and really flaky pastry dough around it, with a light sprinkling of sugar on top.  This was probably my favorite of the three, but that's because I love both apple and flaky dough.
I don't usually get dessert with lunch, but at The Cinnamon Snail, it's very difficult not to.