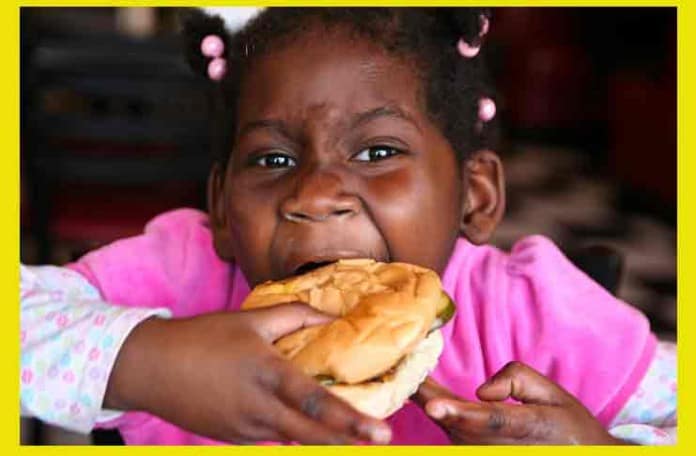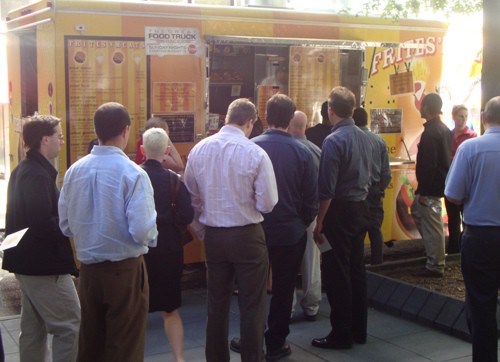 This twitter thing seems to working out :).   I read about the Burger of the Week from Frites 'N' Meats – The Italian Job – and it was exactly what I was in the mood for.
The Italian Job is an Angus beef patty with mozzarella and gorgonzola cheese, plus a parmesan cheese spread, bacon and salsa verde.  How could I not try this for Today's Lunch ($8.50)?  Blue cheese and bacon burgers are among my all-time favorite dishes!
I love the frites from Frites 'N' Meats, but a burger and fries is too much food for lunch.  I can eat it, but would be pretty much stuffed all day if I did.  I'll just have to enjoy the frites when I get dinner for my family from the truck, like at Rockefeller Park over the summer.  Then food get shared, and it's not so much to eat.
Knowing how long the line can be, I pre-ordered.  Good call. The line was about 15 people long when I got there, but I was able to just walk up to the window, say my name, pay and walk away with lunch.
Upon unwrapping the burger, I was confronted with a pretty thick burger.  I took off the top of the bun to get a closer look, and saw mozzarella and gorgonzola cheese (yum!), thick bacon and a peach-colored salsa verde.
I was expecting a red or green salsa verde, so I put a little on my finger to taste.  It was the color of Cheez Whiz, but the color was the only thing these two things had in common.  The salsa verde was spicy and delicious.  It held up well to the strong taste of gorgonzola cheese.
The mozzarella on the other hand was visible, but not much of a factor in the taste.  The strong tastes of the burger, bacon and gorgonzola and the spice from the salsa verde were what came through.  The description said there was a parmesan cheese spread, and I detected a little, but it was more of a mellowing of the gorgonzola than the taste of parmesan.  For all I know, that was the intended use of the mozzarella and parmesan cheese.
The burger itself was moist and juicy, and did not get lost under all the toppings.  I really like the onion brioche bun too.  It was pretty thick, and held everything together nicely.
Today's Lunch gets an 8.5 out of 10, but if you don't like blue cheese or spicy food, you might want to order something else from Frites 'N' Meats.  There are plenty of other options to choose from – but I love blue cheese, bacon and spicy food.