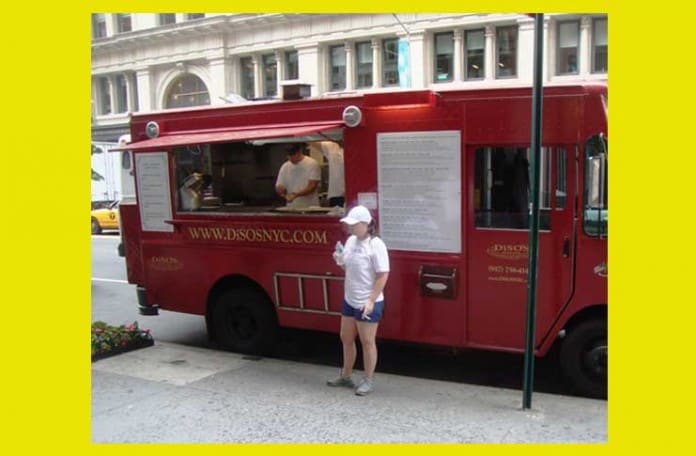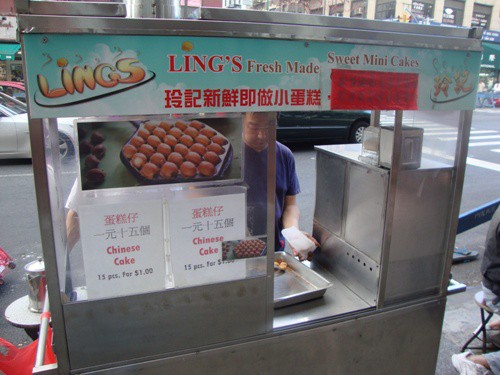 It's a splendid day outside today.  Perfect for enjoying great New York Street Food from the vendors on the right and the trucks below.
As always, make sure to check the pink Mobile Munchies twitter feed on our homepage before heading out in case any of the vendors had to move.
StreetSweets – Good morning, Midtown! St Sweets is on 52nd/Lex today, ready to spoil you with cupcakes & macarellas. Come by for your morning coffee!
1 new tweet.
Mexicue – 18th St & 5th Ave today! Open at 11:30!
EddiesPizzaNY – No Parking Today on 52nd. We r on 46th and 6th until 3pm. No Gnocchi today as a side but we do have Mozzarella. we also have sundried tomatoes as a topping today. open!
schnitzeltruck – Morning! Obama is in town:) due to all the traffic he has asked us to tell everyone to "get their schnitz on":) Park & 26th St 11:30-2. German Tv is coming by to film.. If anyone wants to get their hasselhoff on I suggest you roll to truck and get on TV:)
BistroTruck – Event today from7-9pm at SUNY university. We will be leaving early today around 4pm…come by and get your fix. Enjoy Bistro Truck.
waffletruck – Attention downtown waffleurs, its Hanover Square day! We will be here until 4:42. Order like a reporter with a scoop for 1 free dinges!
nyccravings – Broad and Pearl…ready by 12pm! Will not be servin 9/27-9/30. Miss us? Come visit us on the weekend of 10/1-10/3 for The New Yorker Festival.
RickshawTruck – Columbus Circle: we are at 57th + 8av from 11a-3p. Chelsea/Starrett Lehigh, we are going to miss you today. we are booked for a pricate gig!
fritesnmeats – Howdy FiDi! Burger Loves heading your way. We'll be on Water & Broad. Call in your order. Don't waste any of this beautiful day waiting on line. 917.292.9226

CupcakeStop – CupcakeStop Trucks on 58th and 8th and on 99th and Madison. Red Velvet,Funfetti,Van Choc,Oreo,Almond A'more,Choc Van,Hostess,Hummingbird,S'mores,Tiramisu,French Toast & Cinnamon Raisin w/ a Schmeer! Free Cupcake Password on our Facebook Fan Page Now! http://www.facebook.com/pages/New-York-NY/CupcakeStopcom/108470078760?ref=ts
joyridetruck – It's Hump Day so Joyride will be on Hudson between King and Charlton from 7:00am-6:00pm. Today Special: Organic Ethiopia Mordecofe: A perfectly balanced cup w/ ripe peach, apricot notes held together w/ fresh cream and chocolate.
Apouspotsticker – Now @ 3 locations!!: 1. East Village: Astor Pl & Lafayette St 2. Financial Center: Broadway and Liberty St 3. UWS: 72nd & Broadway.
2 new tweets.
qbacubankitchen – Had to return to commissary for something for Fritas! Running few minutes late. ETA 11:45.
3 new tweets.
CalexicoCart – Sorry, no chipotle pork on Wooster St today. However, we have Shredded Chicken w/ smoked bacon in a chile sauce & pork w/roasted chile salsa. Beautiful day at the Brooklyn Bridge Park. Come on down for some tacos. We're open 11:30-9.
PapaPerrone – It's eggplant Wednesday try it on our fresh garlic bread.
LCBBurgerTruck – The La Cense Beef Burger Truck is parked at 111 Wall St. for the rest of the week….Coming soon, delicious new grass fed beef sandwiches!
miss_softee – I've secured the goods!! there will be banana foster special today for all you kids! want something else? tweet ur cone suggestions and win!
1 new tweet.
cakeandshake – Wow…what an incredible day! Perfect Milkshake weather!
quickstopkosher – Sorry guys! We are gonna be closed from tomorrow until October 4th due to the holiday!! Wishing you all a spiritual and relaxing holiday!!
Hoboken/Jersey City
VeganLunchTruck – This week, we have been nominated for the Vendy awards which is on Saturday. Because we will be serving 1500… http://fb.me/DX9vavoL
TheKrave – Have you tried the pink sauce yet? – Hudson and Harborside Pl. 12:00-2:00 Columbus and Marin. 5:30-9:30 http://tumblr.com/xl1javgsf
TheTacoTruck – Stop by our Hoboken location today for lunch. We've sped things up in the kitchen and wait times have improved significantly!