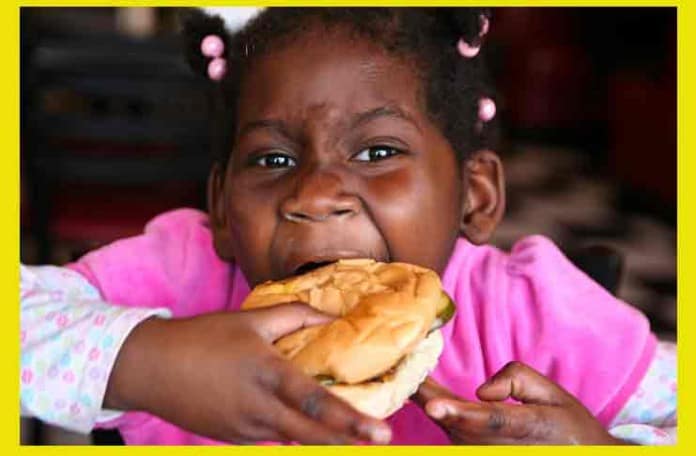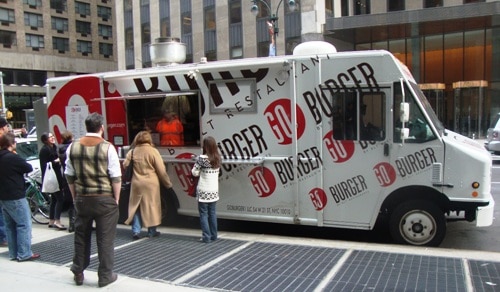 A lot of food truck owners have the goal of eventually opening a restaurant.  The Go Burger truck comes from the other direction – it's an outgrowth of an existing company, the BLT restaurant group.
You see that black stuff in the photo?  It may look nasty, but it tasted delicious. More on that later.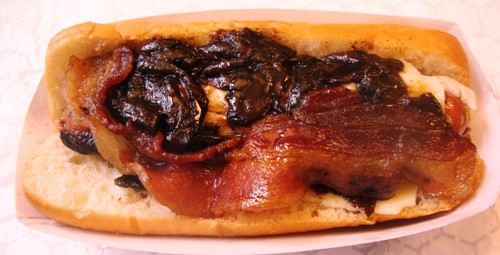 So what do I suggest you get at the Go Burger truck?  A hot dog, of course.  While I like their burgers, I really like their hot dogs!  Go Burger has a Kobe Dog that comes with spicy German mustard and pickled jalapeños that I've enjoyed before, but the BCO Dog ($7.50) is my top choice.
BCO stands for bacon, cheddar and onions.  The menu says crumbled bacon, but it was actually a piece of fairly thick, uncut bacon on the dog.  When I had a BCO Dog last year, the bacon was crumbled, which made eating it a little easier.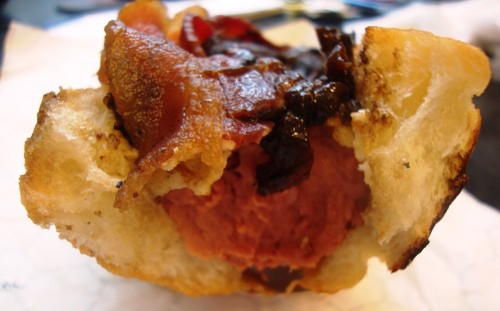 In my opinion, what really makes this dish stand out is the black stuff – the caramelized onions.  They were so soft and sweet, I wanted to send them flowers for Valentine's Day (but I ate them instead).
The cheddar cheese came through nicely too, adding another layer of cheesy flavor to the dog.
By the way, the hot dog itself was thick and tasty and made with 100% American Kobe beef from Snake River Farms (according to the menu. I didn't send it out for testing) .  In terms of size, it was thicker than a frankfurter, but not quite as thick as a knockwurst.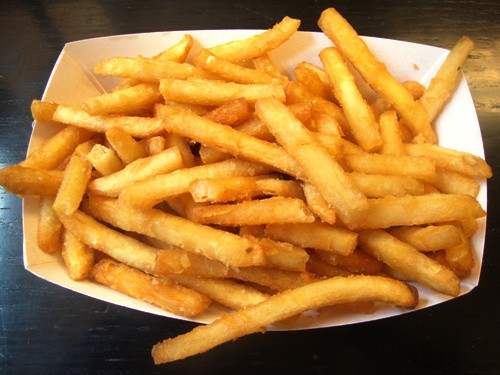 The other thing I really like at Go Burger are the sides.  Their skinny fries ($3) are crispy and among the best on the street.  No wimpy fries here!  Their Vidalia onions rings ($5), which I had on a previously visit to the truck, are really good too.
My only complaint with the sides is they are a bit pricey.  I would like to be able to get a burger and fries for $10, but that's not possible at the Go Burger truck.  Instead of a large order of fries for $3, I would prefer half the amount for $1.50 or even $2.  I don't need that many fries for lunch!  And $5 for sweet potato fries and onion rings is just too much.  Tasty, but pricey.
You can find the Go Burger truck on twitter here or on our Mobile Munchies twitter feed here with all the other food trucks.