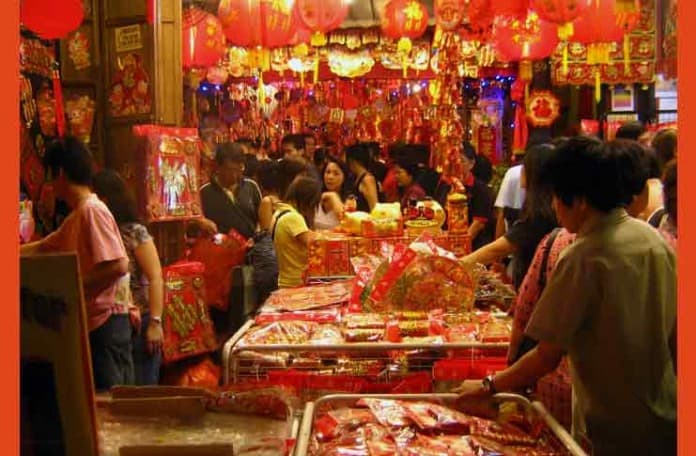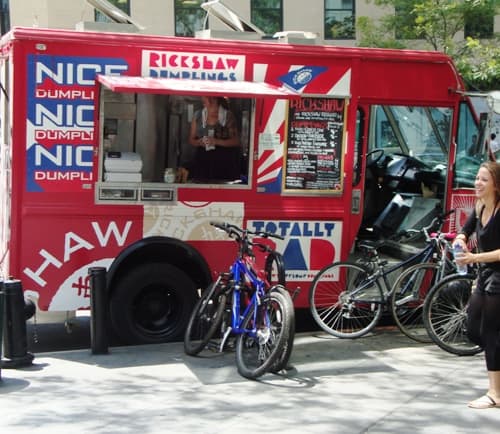 It was another crazy day at the office, and I needed something nearby and quick for lunch.  Rickshaw Dumpling Truck was only 1/2 block away and they don't usually have a long line, which fit the bill perfectly.  Today's Lunch is the Thai chicken basil dumplings with peanut sauce ($6) and a cold noodle salad ($3) from Rickshaw Dumpling Truck. (Note: This was a few days ago.)
The Rickshaw Truck has its fans and its detractors. Yes, they are a bit pricey and you can certainly get cheaper, better dumplings in Chinatown – but I work in midtown and there aren't many Chinese restaurants in my immediate vicinity.
I find Rickshaw's dumplings to be decent.  While I don't usually like chicken dumplings (pork or shrimp, baby!), the Thai chicken dumplings at Rickshaw are pretty good.  The minced chicken, basil and cellophane noodles are a nice filling, and the wrapper is soft and springy.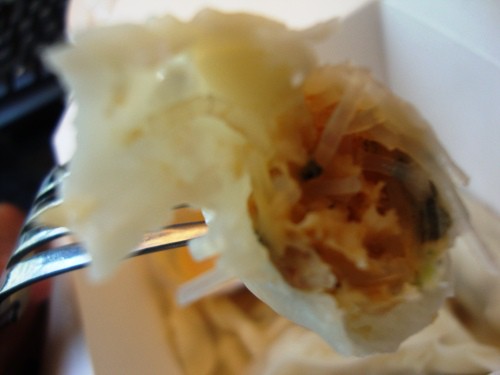 What I didn't like was the peanut sauce. It had a vaguely chemical taste to it, and kind of reminded me of a peanut flavored Cheez Whiz.  Glad that I asked for hot sauce, because the dumplings dipped in hot sauce were good – and their hot sauce is severely hot.
I really like the cold noodle salad from Rickshaw.  There's lots of stuff in there – carrots, bean sprouts, scallions and sesame seeds, among other things.  A nice refreshing side dish for summer.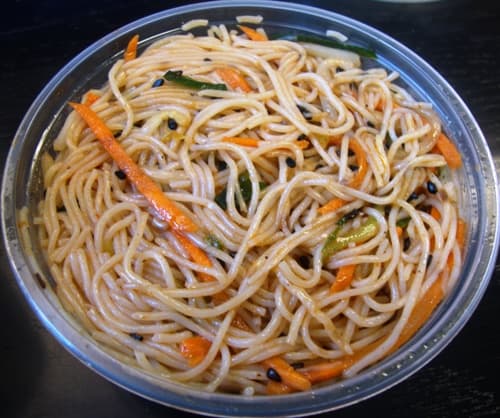 Today's Lunch gets a 7.5 out of 10.  The cost is near the higher end for street food, but the dumplings, noodle salad and hot sauce were pretty good – not great but good.  The peanut sauce however was a disappointment.  While Rickshaw is not my favorite food truck, it will do in a pinch if I don't have a lot of time and they are nearby.