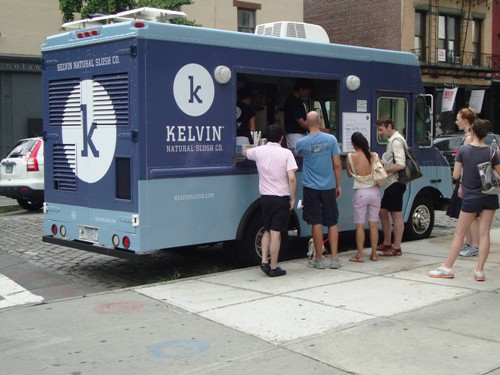 It's a good day to get some great New York Street Food from the vendors on the right and the trucks below.
Did people check out the Great Food Truck Race last night on the Food Network.  Which one is your favorite food truck?  Is it just us, or does the guy from Austin Daily Press remind you of Jimmy Fallon?
Anyway, before heading out, please check the pink Mobile Munchies twitter feed on our homepage for the latest info, in case any of the trucks had to move at the last minute.
KELVINSLUSH – We are excited to be on NY Post's list of NYC's best icy desserts with Oceana, Telepan et al!! http://fb.me/DMQalhmh
1 new tweet.
nyccravings – 48th btw 6th and 7th. Ready by 11!
fritesnmeats – Hey Hey Midtown East! Guess what? Burger Love is in the hood!! Were on corner of Park Ave & 52nd St. Gonna try to make this our Monday spot. Show us ur Burger Love! Come by or just call in ur order & pick it up. 917.292.9226
pizzatrucknyc – 40th and 5th today
RickshawTruck – Hey DUMBO: Supposed to be hot and sweaty today but we are here loving you guys! come say hi! Dumplings at Washington + Front. 1030a-3p
EddiesPizzaNY – Happy monday! We r on 38th and 5th until 3pm then 32nd and 3rd. Come try pizza w vodka sauce and chicken cutlet. Call ahead orders 9174397522
schnitzeltruck – Morning FiDi! We'll be @ broad & water sts @ 11:30.. Come get your Monday schnitz on. Turn that frown upside down:) Preorder @ 347-772-7341
biggayicecream – Don't forget- we're the dessert course at @themermaid NYC tonight. See you at Union Square first, though. I'll be there for mid-afternoon.
StreetSweets – Street Sweets is on 46th & 6th Ave all day today. Have u ever tried our hot or iced coffee, If u don't love it we will give u ur money back.
joyridetruck – Joyride is on its way to 52nd & 6th. Midtowners, we bet you can use a Monday morning cup of @stumptowncoffee !
CupcakeStop – Mon:trucks on 6th Ave & 15th St and on 52nd & Lex, shoppe inside the Limelight 6th & 20th, 1st fl and bakery in Montclair NJ 1 Greenwood Ave
VLAIC – 5th&15th, 5th &23rd, greene & prince, Bedford & n . 7th, bleecker & Charles
miss_softee – heading to pickup Oreo with a big box of peanut butter cookies on the way!! today's special is a bit like a giant, creamy pb cup!! I said it
ElDiabloTacos – Especiales tonight…. chips + salsa $2, chips + gauc $3, watermelon agua fresca $1!!
Hoboken/Jersey City
TheKrave – 8/16: Columbus and Marin, 5:30-9:30
2 new tweets.
qbacubankitchen – On our way to jersey city eta 12:00pm, special of the day ropa vieja.
laspicetruck – the LST is off the road today will be back tuesday lunch and dinner. support your JCfood trucks