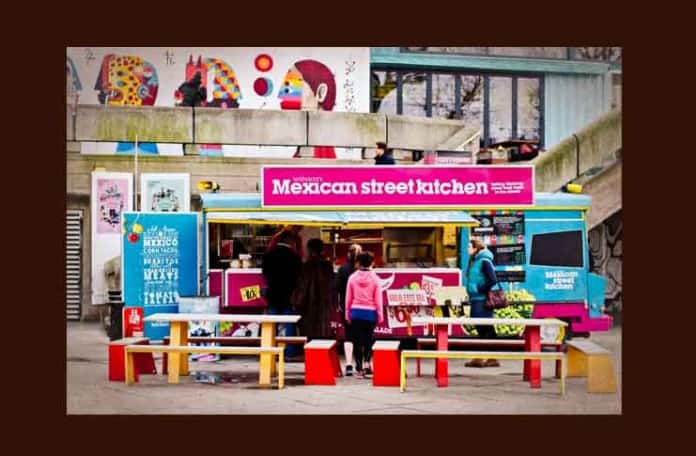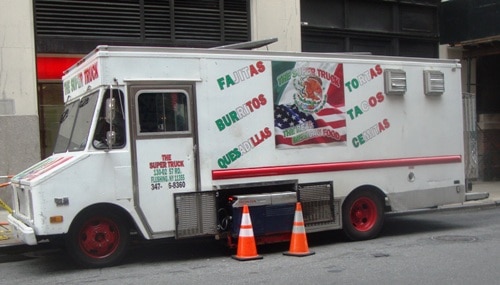 One of the old school Mexican trucks working Park Ave in the 20's is called The Super Truck.  They should not be confused with Super Tacos, who are on West 96th St on weekends for dinner and late-night Mexican food.
I've seen The Super Truck on Park Ave in the low 20's a few times, but the recent police crackdown chased them off the avenue to 25th St, just east of Park Ave.
They call themselves "The Real Mexican Food", so for Today's Lunch, I ordered a Spicy Burrito for $7.  The Super Truck also serves tacos, quesadillas, tortas, cemitas and fajitas, and has a full breakfast menu and 8 different types of smoothies.  You can see their lunch menu here and their breakfast & smoothie menu here.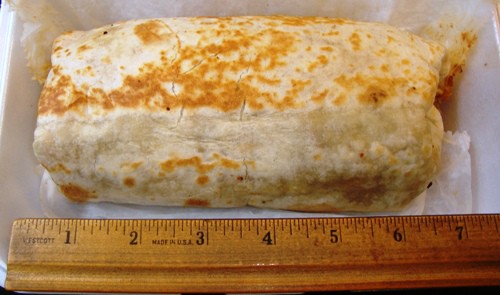 The first thing I noticed was how big and heavy the burrito was, so I measured it.  The burrito was 7″ long, but it was also very thick and heavy.  I didn't have a scale, but would not be surprised if this weighed between 1-1/2 pounds.  It was definitely over a pound.
I picked it up and took some bites.  There was a ton of steak in the burrito, with pieces of steak falling out of the burrito on the first few bites.   The steak had marks from being grilled, and tasted like it too.  The steak was good – not the best I've had, but decent.
Luckily, they gave me a plastic fork and knife to eat it with, which I had to use.  There was way too much filling to pick up and eat the burrito by hand.
There was also jack cheese, onions, tomatoes, rice, black beans, cilantro and a spicy red sauce in the burrito.  It was pretty tasty, and the Spicy Burrito certainly lived up to its name.  This was a damn spicy burrito.
For $7, this was a huge amount of food.  The burrito wasn't of the same quality as Calexico, but was still a good lunch.
I want to try a few other dishes (tacos, quesadillas, tortas) before deciding whether to include The Super Truck in the NYSF directory.  If you have tried them, let us know how you liked it in the comments, or email me at perry@newyorkstreetfood.com.