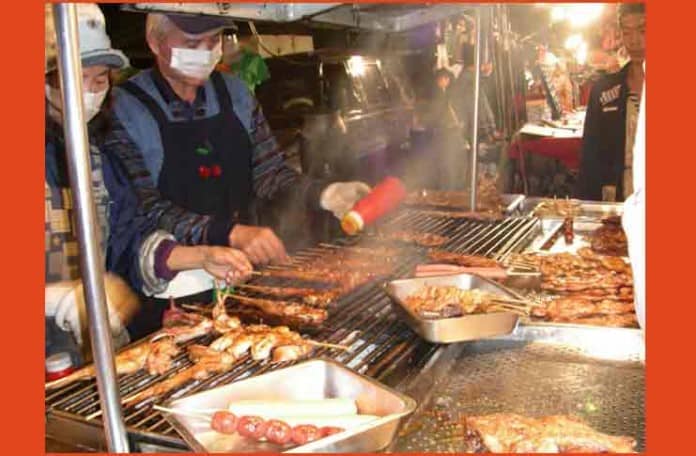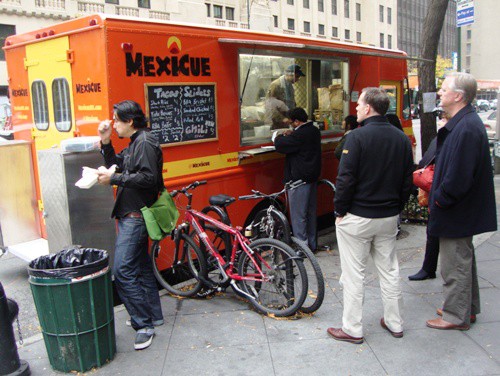 In a continuation of Burger Week on New York Street Food, Today's Lunch is a slight detour into the world of sliders (and a taco) from the Mexicue Truck.  If you recall, Mexicue was a 2010 Vendy Award finalist in the Rookie of the Year category, and we thought they were one of the better rookie vendors.
For Burger Week, we started with a Carnegie John cheeseburger on Monday, a Frites 'N' Meats "Bite Back" burger on Tuesday, and a "Mother Trucker" from the Green Truck on Wednesday.
Today's Lunch is a pulled pork slider, a chili slider and a short rib taco (total $10).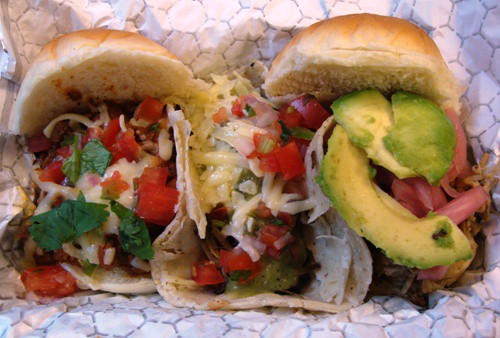 I tried Mexicue once before and enjoyed it, but wanted to try some new menu items.  They told me the chili slider was a new item, and after I ordered it, they told me that I was the first person to ever order it.  I don't mind being a guinea pig when the food quality is as high as it is at Mexicue.  The pulled pork slider and short ribs tacos were new to me as well, if not to their menu.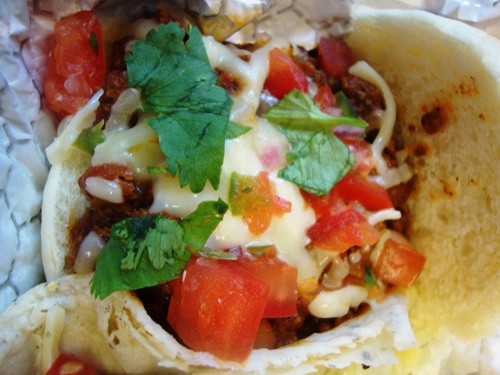 First up was the chili slider.  The chili was made with ground beef and pinto beans, and there were cumin and other spices in the mix.  This slider was stuffed pretty full for $3, and it got a bit messy to eat.  In addition to the meat and beans, there were cheese, tomatoes and cilantro on top of the chili, and it was all on a really soft slider bun.  Meat and beans fell out of the bun as I ate it, which would have been a problem if I ate this on the street, but was fine at a desk or table.   The chili was a bit spicy too, which I like.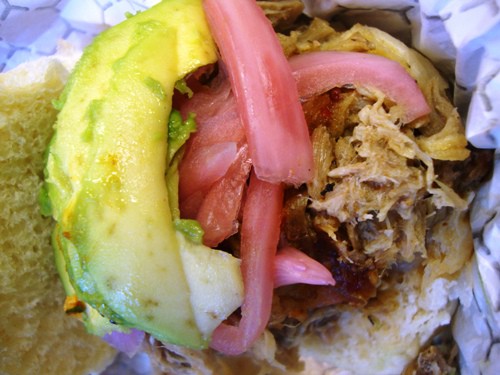 Next up was the pulled pork slider, which had pickled onions and avocado on top of the meat, on the same great bun as the chili slider.  The pulled pork itself was delicious, with a nice BBQ flavor.  The pickled onions added some vinegary taste, which was mellowed a bit by the avocado.  With the vinegary taste (I mean that in a good way), the pulled pork was more reminiscent of North Carolina BBQ than Texas or Midwestern BBQ, which often has more of a tomato-based flavoring.  Even though it was not spicy, the pulled pork slider was my favorite of the 3 lunch items.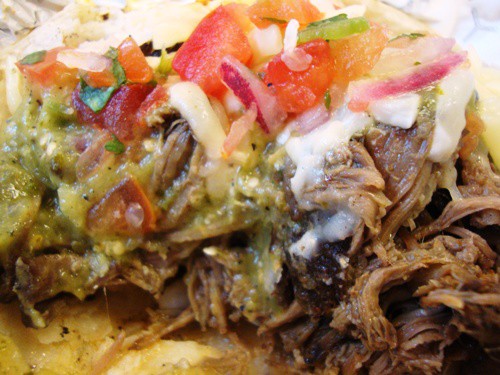 Last up was the short rib taco, which I previously heard good things about.  I can see why, because the meat was the smokiest of these three lunch items.  Shredded short ribs with salsa verde, tomatoes, red onion and queso fresco – another great combination from the Mexicue team.  The only problem was the use of only 1 tortilla to hold it all together, which was a problem.  You need 2 tortillas to hold something like this together.  The taco filling was great, but it did start falling apart halfway through.
Today's Lunch had 3 distinct components: we give the chili slider a 7.5, the pulled pork slider an 8.5 and the short rib taco an 8 (but it would also have been an 8.5 if it was served with 2 tortillas).  This averages to an 8 out of 10, which is about right for very good food, but not a great value.   The tastes were quite varied and delicious, but $10 is on the high end for lunch.
Nevertheless, Mexicue is an excellent street food lunch, and I wouldn't be surprised if they are nominated for more Vendy Awards in the future.