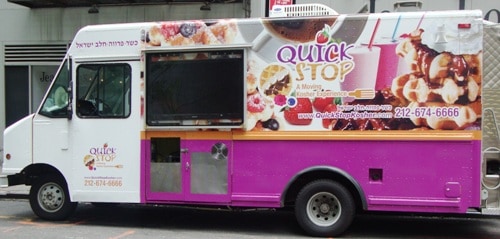 Should be a nice day to enjoy some great New York Street Food from the vendors on the right and the trucks below. Green Truck is still giving out free veggie burgers & iced tea courtesy of NBC's Green Week.  Their first stop today is at 38th St & 5th Ave from 12-2.
Souvlaki Truck will be off the road for a few days for winter upgrades.  We'll let you know when they are back.
For Today's Lunch, NYSF Burger Week continues.  Check in around lunchtime to see where today's lunch comes from.
Make sure to check the pink Mobile Munchies twitter feed before heading out, in case anyone had to move at the last minute (which seems to be happening a lot lately).
KorillaBBQ
FiDi here we come finally!! coenties slip and pearl! maybe a little after 11:30
GreenTruck
38th and 5th today and noon…for free lunch on NBC
BistroTruck
Marinated grilled Lamb chops, served w/ couscous and veggies & salad on the side; Soup: Lentil soup; Dessert: green apple cinnamon parfait.
fritesnmeats
Lunch today @ 26st & park av. Burger of the week THE BITE BACK! spicy angus patty pepper jack cheese jalepenos & a garlic aioli spread with applewood bacon! Come check it
joyridetruck
We're at 52nd&Lex till 6pm. Croissant fan? Well Ceci-Cela's are the best! Available in plain, chocolate, and ham&swiss. Just ask and we'll heat them right up for you
StreetSweets
Hudson St, getting close to 1yr that we've been bringing smiles 2 ur street. So it's fair to say that u know we have soups & savory items 2
UncleGussys
Today's special is … LAMB CHOPS, with LEMON POTATOES, all prepped by none other than MOM.
CupcakeStop
Thurs: CupcakeStop Trucks in Park Slope Brooklyn on 7th ave bet 5th and 6th sts and in NYC on 5th ave and 23rd st. Menu: Carrot Cake, Tiramisu, Red Velvet, Funfetti, Fluffernutter, Almond Joy, Hummingbird, Hostessand Chocolate Vanilla!
Comme Ci, Comme Ça Sweet Thursday: Soupe du jour: Lentil Soup Puglia Style ($3); BELGIAN CHOCOLATE MOUSSE ($3)
cupcakecrewnyc
Come find us at 636 11th ave bet 46-47 street, and don't forget to check-in on @
foursquare
! 5th Check-in gets you 3 FREE minis!!!!
http://4sq.com/cjGja9
. Todays flavors: Red velvet,Banana hummingbird,Pumpkin cheesecake,Vanilla choc,Java Mamma,Strawberry cheesecakke,M and M.
schnitzeltruck
Mornin all:) gonna schnitz & roll on 52nd & 6th today. From 11:30-2:00. Hope you stop by. Off to load the beast with goodness:) c ya. Preorder minimum is 3 platters/sammiches. 347-772-7341 . If we don't pick up we apologize. It just means it's very busy
waffletruck Happy Midtown Thursday! We're on 46 btwn 5 & 6 til 4:30…and 3 seconds pm. Attempt to fly for us for 1 free dinges today.
souvlakitruck Morning guys! Our baby is going in 4 winter upgrades 4 the next few days. Why not visit our fellow #foodtrucks 2 show some love? I will be!
PapaPerrone We are being told that the truck will be ready by the end of the day. So we will be in Friday as long as everything goes well.