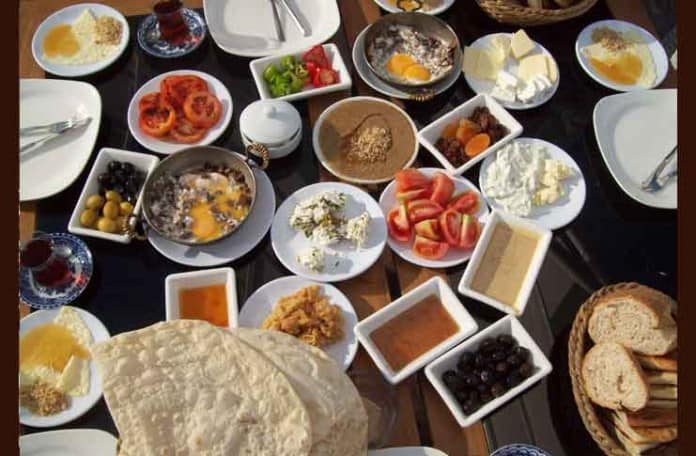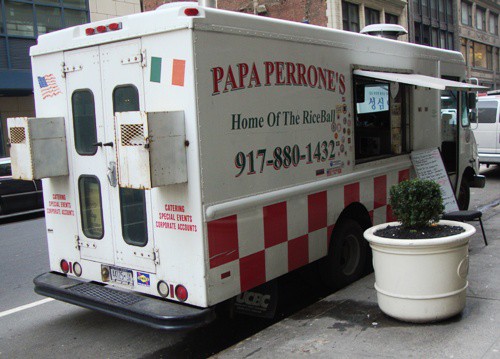 I've been to Papa Perrone's truck a few times, but never tried his most well-known dish, arancini, a Sicilian rice ball with meat.  Papa Perrone also has a vegetarian rice ball with spinach and cheese and a 3 cheese rice ball, but the rice ball with meat is his best seller.
I wasn't sure if a rice ball would be enough for lunch, so I asked John Paul if he had something small to go with the rice ball.  Today's Lunch is a Sicilian rice ball with meat ($4.50 plain or $5.50 parmigiana style) and proscuitto bread rolls ($1.50 for 2).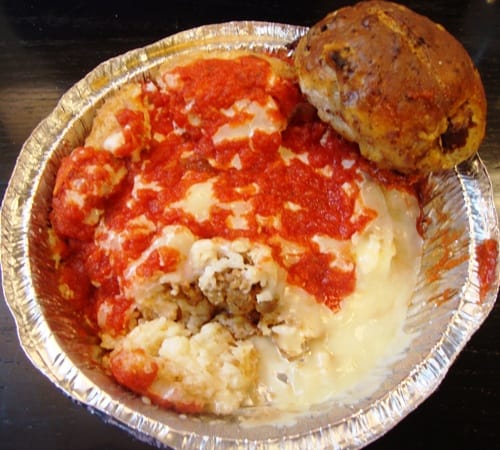 The rice ball was about the size of a baseball, maybe slightly larger.  It was breaded and fried earlier today, and when I ordered lunch, it was cut open, filled with sauce and mozzarella cheese, then put back in the over for the cheese to melt.
This lunch was a delicious, gooey meal – and I mean that in a good way!  The rice in the ball was creamy like risotto, and with the meat and peas filling, tomato sauce and mozzarella cheese, each bite was really tasty.  Some bites had more rice and some had more meat, but every bite was enjoyable.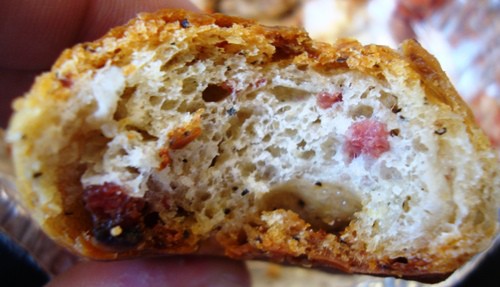 If I had seen the rice ball before ordering, I would have realized it was enough for lunch.  But I didn't, so I ordered proscuitto bread rolls too – and I'm glad I did.  The predominant taste (besides bread) was parmesan cheese, and there was a lot of black pepper too.  I was surprised how peppery it was, because you don't usually think of rolls as peppery, but I liked this peppery, cheesy roll.  There were definitely pieces of proscuitto in there, but they were more of an accent than the main flavor.
Today's Lunch was very enjoyable.  I've seen rice balls on plenty of Italian menus, but usually go for chicken/veal parmigiana or lasagna.  Now I have another dish to try, thanks to Papa Perrone.
Next time I want to try the three cheese rice ball without parmigiana, to get more of the rice ball taste.