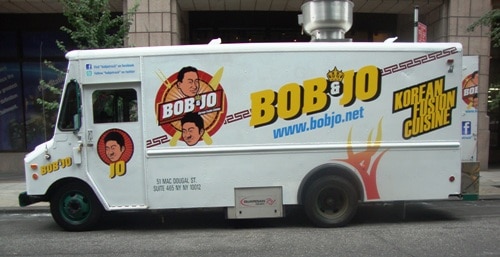 Ever had Japche? Well, Bob & Jo is a food truck that hit the street a little over a year ago serving what they call "Korean fusion cuisine". We're not sure where the "fusion" comes in because the menu looks pretty traditional, but the food is good, which is what matters.
We haven't been to Bob & Jo in a while, and never really noticed theJapche before. It's described as a stir-fried sweet potato noodle dish, which costs $7. You can also get meat topping for $1 extra, which we did with the galbi (short rib). Other meat toppings available were bulgogi (ribeye), chicken and spicy pork.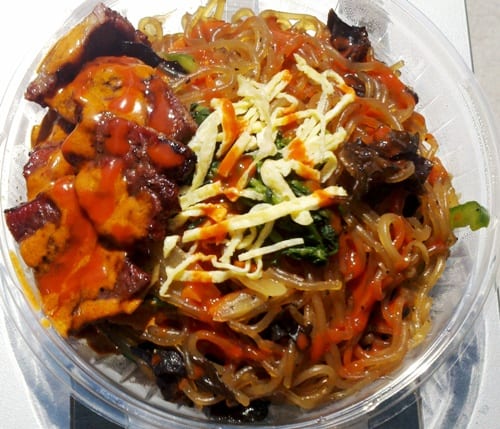 Opening the container, this was one of the better looking lunches we've had lately. The cellophane noodles were specked with seasoning. Shitake mushrooms, onions and bell peppers were mixed into the noodles, and it was topped with basil, scallions, thin slices of scrambled egg, nicely-grilled galbi, and a Korean sauce. We also added hot sauce to our lunch.
Everything was good, but special mention has to be given to the galbi, which was char-grilled over flames. To speed up the grilling time during lunch rush, Bob had a hand torch that he used to singe the top of the beef while the bottom was being cooked on the grill. Doing this by hand enabled Bob to perfectly grill the meat.
In our opinion, adding galbi for $1 to theJapche is a no-brainer, unless of course you're a vegetarian. In that case, theJapche without a meat topping is a good choice for lunch.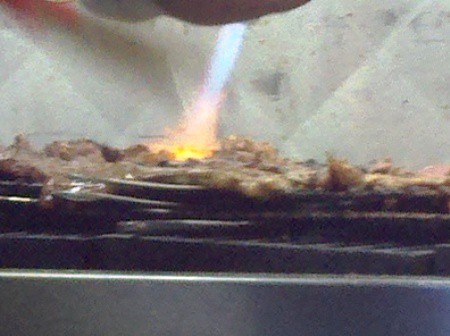 As for the noodles, they looked like cellophane noodles to us, which are usually made with rice, but the menu said they were sweet potato noodles. Maybe that's what made this lunch one of the heavier dishes in terms of weight from Bob & Jo. The noodles didn't taste heavy, but there were a lot of noodles in the container, making this a very filling lunch.
Bob & Jo hit various neighborhoods around town, so find them on Twitter here or our Mobile Munchies Twitter feed. They don't get as much press as some of the other Korean food trucks in town, but they serve a tasty Jap-Che and their galbi was delicious.