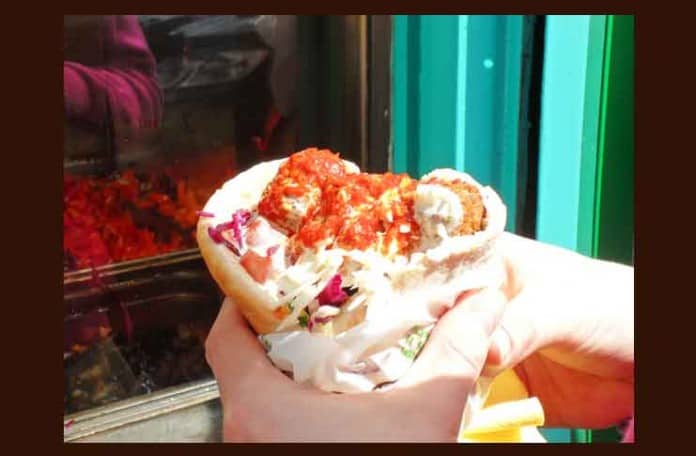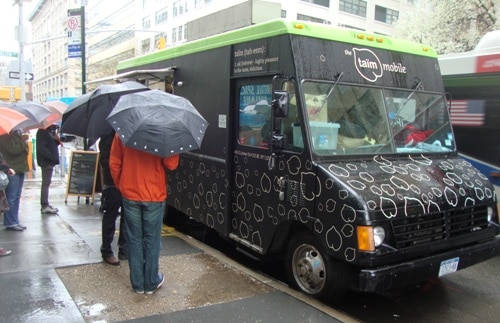 When I saw that Taïm Mobile had sabich for their special this week, I wanted to check it out.  I had seen sabich (suh-beech) on menus of other falafel places and was not too familiar with it, but once I did a little research…I had to try one.  Once I saw hard-boiled egg, that was it!  I'm no Cool Hand Luke, but I do love hard-boiled eggs.
Today's Lunch is a sabich sandwich ($6.75) from Taïm Mobile.  They also had a sabich platter for $11 which comes with 2 side dishes.
So what's in a sabich sandwich besides a hard-boiled egg?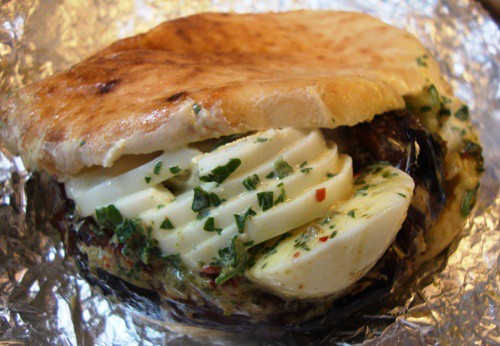 Underneath the egg was eggplant that was grilled in oil, and there was Israeli salad (tomato, cucumber & parsley) and shredded, pickled cabbage in the sandwich too.
One thing that's not in a sabich sandwich is falafel.  Taïm has excellent falafel, and if you want falafel, don't order the sabich.  But if you want something delicious and different, a sabich sandwich fits the bill.
I'm not usually a big eggplant fan, but this was eggplant was some of the best I've ever had…and that's not just blogger hyperbole.  It was extremely soft and supple, even the rind, and the olive oil gave it a really nice taste.
When I opened the sandwich, it was oilier than I expected it to be, but they wrapped some paper around the sandwich to absorb the oil,, and when I pulled off the paper, the excess oil came off too.
The combination of eggplant and egg was awesome!  The bites were creamy and a little tangy.  There was a light, lemony sauce on the egg and eggplant that was absorbed by a warm, fluffy pita bread.  Wow, this was an excellent sandwich!
As I just said, Today's Lunch from Taïm Mobile was excellent.  I've had some really good lunches from Taïm since they opened Thanksgiving weekend last year, but this was definitely my favorite so far.
I'm going to go out on a limb and say that I'll be very surprised if Taïm Mobile is not nominated in the Vendy Award Rookie of the Year category  in 2011.  Everything I've tried at Taïm Mobile has been really good – but the sabich sandwich was off the hook!