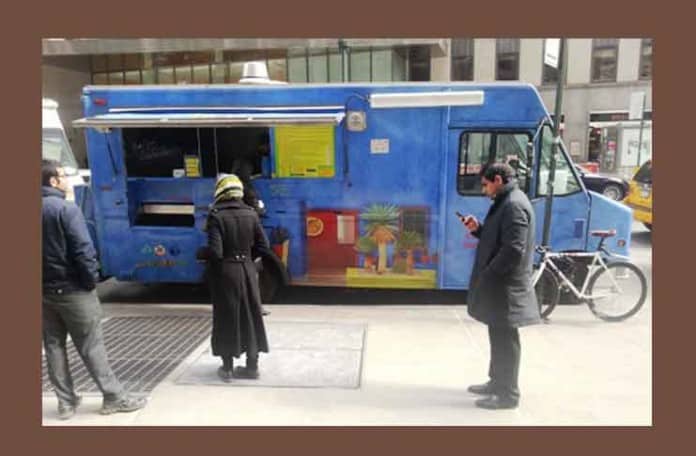 Sweet Mini Cakes, also on the south side of Canal St, just west of Mulberry St.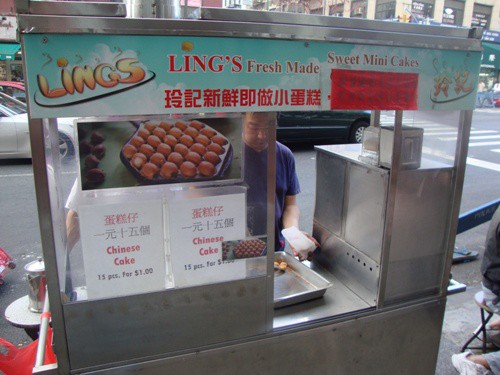 Well, at least the hard rain has stopped, and most of the vendors are out on the street serving today.  You can enjoy some great New York Street Food from the vendors on the right and the trucks below.
We had some technical difficulties with the Mobile Munchies feed on our website, but everything is fixed now.  If you are following the Mobile Munchies list on twitter, you may need to click here again to follow the list.  The URL has changed slightly.
Make sure to check the Mobile Munchies list before heading out, in case anyone had to move at the last minute.
TaimMobile
Good morning!! 51st btw 6th & 7th av today as our per usual on Wednesdays. We are bringing Sabich today for special!!!
Mexicue
18th & 5th @ 11:30. How would you Mexicue Smoked Cheddar? http://apps.facebook.com/contestshq/contests/108253
EddiesPizzaNY
Happy Weds! We r on 46th btwn 5th and 6th w/our fire drill (hot cherry peppers, jalapenos & hot sauce). we also have 3 types of heros.
schnitznthings
Hey guys:) get through hump day with some Schnitz! Truck will be on park ave b/w 26th & 27th from 11:30-2:00 and store is open from 11-8:00
KimchiTruck
Good morning Midtown! Looks dreary out but your lunch doesn't have to be. We're on 52nd & 6th open 11:30-2:30pm. Due to mechanical difficulties, we only have Tacos and Sides available today. No Kimchi bowls but trying to have Kimcheesesteak. Open 11:45.
waffletruck
Wonderful Wednesday and the Wafel Truck has returned to Hanover Square until 4:34! Which state boasts the most presidents for 1 free dinges!
bigdsgrub
4/13 (Wed) Get over the hump with some Asian tacos, grinders, & dumplings (oh my!) We are on 40th btwn Lex and 3rd ave from 11 to 230pm
SweeteryNYC
EEEEERRRRRAIN! We know it brings Spring flowers, but enough is just that, enough! We r on 52St & Lexington til 3:30p, then to 59th & 9th Ave
RickshawTruck
wed 4/13:
#humpdaydumpday
come get your dumplings! we're in soho (hudson&houston), midtown (50 b/w 6&7), and in FiDi (TBD). 11a-3p