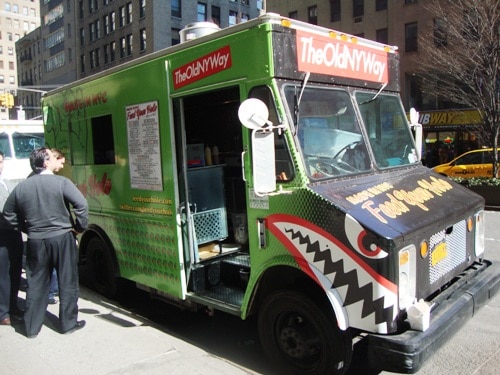 The new Feed Your Hole truck found a nice spot on Park Ave between 29th & 30th St, and has been occupying that spot since it opened two weeks ago.
I'm glad they found a good parking spot, but this is a tough area for me to get over to during lunch.  Nevertheless, I was able to get over there today, and had to decide between a hot dog or burger done "The Old NY Way", as it says on the truck.
There are plenty of good options for burgers on the street and not much in the way of hot dogs other than "dirty water dogs", so Today's Lunch is a Porky's Dog ($3.25) and french fries ($3) from the new Feed Your Hole truck.  Below is their menu, and a larger version can be found here.
Since it was the first time I was trying Feed Your Hole, I didn't want lunch buried under tons of stuff.  The Porky's Dog is a Hebrew National hot dog simply wrapped in fried bacon.
As they make all their own toppings, I opted for cucumber relish, sauerkraut, spicy mustard and "bomb pickles".  I asked the owner Sean why they call the pickles "bombs", and he said because they make the pickles themselves, and they are "the bomb".  He said they make all their toppings fresh.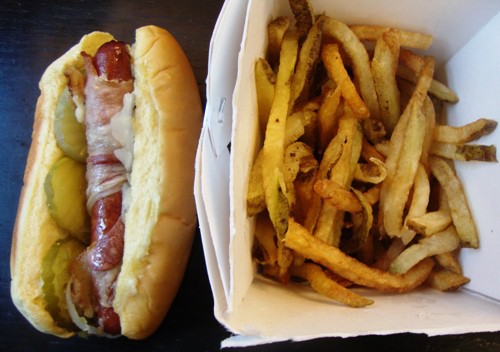 Taking a bite of the Porky's Dog, it had that brisk snap you get from grilled hot dogs – and being Hebrew National, the quality was high too.  As you would expect, it was quite tasty wrapped in bacon.
The toppings were pretty good too.  I loved the relish, which was nice and tangy, and went well with the spicy mustard.  The pickles and sauerkraut were good, but I'm a relish and mustard guy.  With a name like "bomb pickles", I expected them to be spicy, but they weren't.  Overall, this was a high quality, very enjoyable hot dog.
The french fries came in a Chinese takeout-type container, and it was a nice size portion for one person.  What I really liked about the fries were they were hand-cut, with some potato skin left on the ends for crunch.  I don't like when french fries are uniform, and these were obviously individually prepared earlier in the day.  They were seasoned nicely with sea salt, and were delicious.
Feed Your Hole also has cheese fries and chili cheese fries, if you want.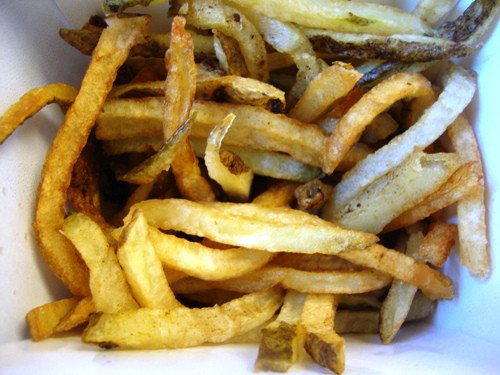 I really liked Today's Lunch, and expect Feed Your Hole to be around for some time.  I just hope they get over to the West Side once in a while.  There are too many other things I want to try on the menu, like the Nut Burger (peanut butter & bacon) and the Sloppy Wiener (with chili).
On a side note, I recently read that New York lost the top spot in Travel & Leisure magazine's Rudest US Cities survey (to LA, no less).  With a new food truck named Feed Your Hole, we may reclaim the top spot yet!