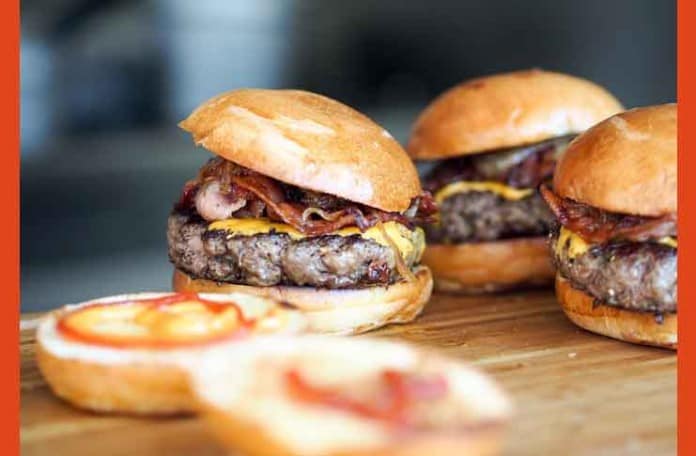 I've been hearing good things about the Ploughman's Burger, Frites 'N' Meats' Burger of the Week.  If it's as good as it looks, Today's Lunch should be a winner.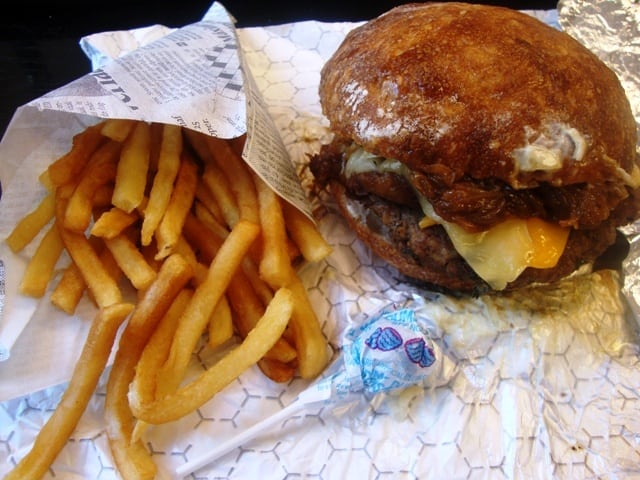 For the uninitiated, the Ploughman Burger has gruyere and cheddar cheese, onion jam and "sassy" cole slaw.  They asked if I wanted bacon, and you already know what my answer will be.  Hell yes!.  How can it be  a ploughman's burger without meat on top?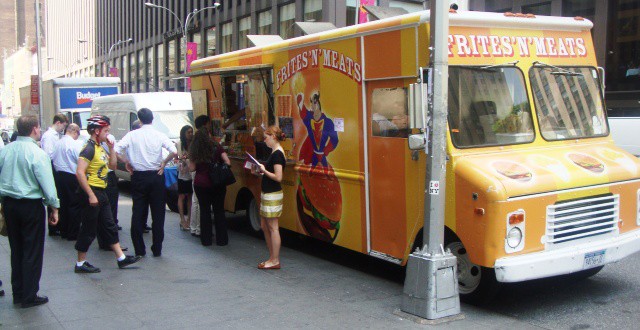 I called ahead to order so I wouldn't have to wait at the truck.  Great idea!  It was pretty busy, and looked like a 20-30 minute wait without calling ahead.  When I picked up my order, I asked Vadim what made the cole slaw "sassy".  He said they added salsa verde to their homemade cole slaw.  Sounds interesting.  I also got an order of frites, and they threw in a dum dum lollipop for yuks.  How did they know I love dum dums?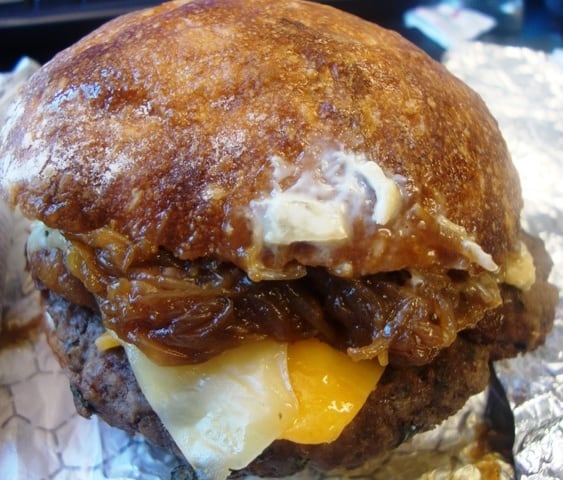 Upon opening the lunch bag (no styrofoam here), it was obvious this was a serious burger.  The first bite tasted of seasoned beef, sweet onion jam and brioche bun – wonderful!  Subsequent bites brought out the taste of thick-cut bacon and cheese – but the stars of the show were the burger and the onion jam, with the brioche bun in a supporting role (ouch!).
The "sassy" cole slaw added a nice crunchy texture to the burger, but with everything else on the bun, the cole slaw was more about texture than taste.  Nevertheless, it did add something to the burger.
I really like their frites too.  Long, thin french fries lightly salted and served in a paper cone.  They have a few special sauces for the frites, but I prefer plain old ketchup.
Today's Lunch gets a 9 out of 10.  The burger could have been a little juicier, but that's a minor quibble.  It certainly was not dried out – it just didn't have juice dripping down from each bite.
Where they lose a point is on value.  The Ploughman's Burger was $9.50 with bacon on top, and the frites were $3.  Even though I love their frites, the burger would have been enough for lunch, and $12.50 is double what I usually spend for lunch.
The prices are a bit high because they use all top-notch ingredients, but I like the fact that they buy local.  DeBragga & Spitler beef, Murray's Cheese and Balthazar Bakery provide the main staples for Frites 'N' Meats, and we're big believers in buying local.
The ultimate compliment is that I would go back for this lunch again any time.  In fact, after eating the Ploughman's Burger, I was ready to go out and plow 6th Avenue.