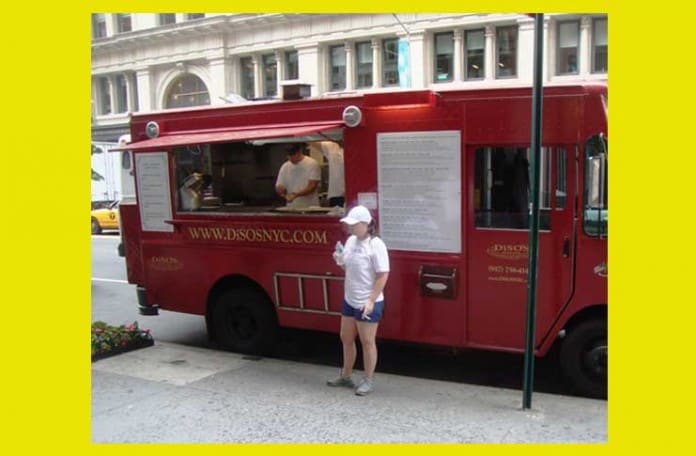 Another beautiful day here in New York.  Enjoy great street food from the vendors listed to the right or the food trucks below.
Make sure to check the pink Mobile Munchies twitter feed before heading out, as these trucks sometimes have to move on a moment's notice.
schnitzeltruckHey guys. Gonna be nice and warm today. Schnitz is on the way, so everything's ok!;) Park ave between 26th & 27th c u @ 11:30
waffletruck – It's all downtown today with cart @ corner of Fulton / Front & truck on Hanover Sq. Tell us about your plans for Mem Day, for 1 free dinges.
StreetSweets – Gd morning! Street Sweets will be on 52st off of Lexington from 8a until 3:30p then off to 9th Av & 59th St 4p until 7:15p
fritesnmeats – Hey FiDi! Were on Water & Broad today. Grab the fabulous Ploughman, Burger of the Week & the amazing Cherry Walnut Brioche Bread Pudding!!
CupcakeStop – 50th bet 6 &7:Red Velvet,Funfetti,Nutella,Oreo,Van Choc,Choc PB Swirl,Triple Choc,Choc Oreo,Cappuccino,French Toast,Van Strawberry & Marble!
5 new tweets.
RickshawTruck – Weds: attention twittizens @ Columbus Circle! duck dumplings in flight! 11-3, 57th & 8th; Chelsea gets a hot new import: Chicken Saag dumplings w/ Dahi yogurt dip! 26th & 11th, 11-3
BistroTruck – Special of the day: braised Tuscan white beans w/ braised lamb; Soup: creamy tomato; Dessert: Creme brûlée
nyccravings – broad and pearl! ready by 11:30
CalexicoCart – Both carts are out today. Due to street construction, the Broome St cart has moved 200 ft south to Crosby St between Broome & Grand.  Sorry for the confusion. The special is shredded chicken in a roasted jalapeño sauce. Enjoy
Jamaicandutchy – Breakfast is now being served at the Jamaican Dutchy at 51st & 7th ave. Come on down 646 287 5004
BenJerrysTruck – Morning, NYC! It's a hot one…just perfect for #OMGfreeBenJerrys! The truck is making surprise stops based on YOUR suggestions yesterday.
Hoboken/Jersey City
TheKrave – 5/23 – 12:00-2:00, Hudson between York & Grand. 12:00-2:00, Hudson & Essex, Inside Liberty Towers Gourmet…. http://tumblr.com/xl1ahojku
TheTacoTruck – Come find TTT in Hoboken @ Sinatra Dr and 1st street from 11:30-2:30. Call ahead 201.577.4214
laspicetruck – Not working today. going to NY bakery and discuss selling my desserts in stores and hotels!