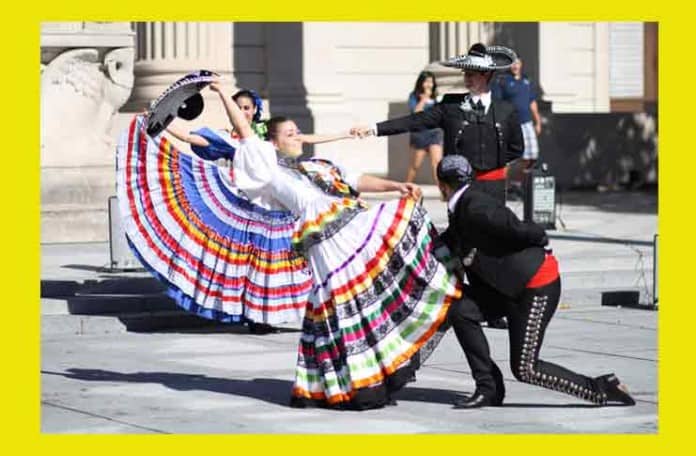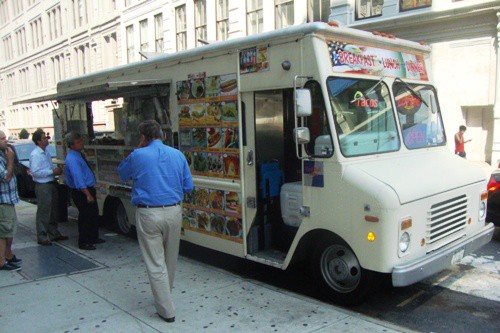 I was in Chelsea just before lunch, and decided to stop by Brothers Express on 18th St just west of 6th Ave on the way back to the office.
Brothers Express is an old school street vendor, and they have regular street food such as burgers, cheesesteaks, gyros and the like.  But the chefs are Mexican, and the best food I've had there were tacos, bistec guisado (beef stew) and empanadas.
When I walked up to the truck, the Daily Special menu said pernil con abichuelas, arroz y ensalata (roast pork with rice & beans and a salad).  That sounded good for Today's Lunch – and it was only $4.99.
The roast pork was shredded, with a few crispy, well-done pieces tossed into the mix.  The pork had a nice roasted flavor, but I messed up by not asking for some salsa.  The pork was good, but it needed a sauce.  A small container of salsa verde would have been perfect.
The beans had been slow cooked for hours in sofrito, and were soft and tasty, with tomatoes, garlic and peppers all adding flavor.  Maybe I should have mixed the pork and beans.  That would have worked.
The rice was an orange rice, which was a little soft, but it was flavored right to go well with the pork and beans.
Today's Lunch from Brothers Express was pretty good.  We recommend going with their Daily Special or other Mexican food.  They also serve breakfast, if you're a breakfast eater and want an omelette or something along those lines.  Their food is freshly cooked and inexpensive – just as street food should be.