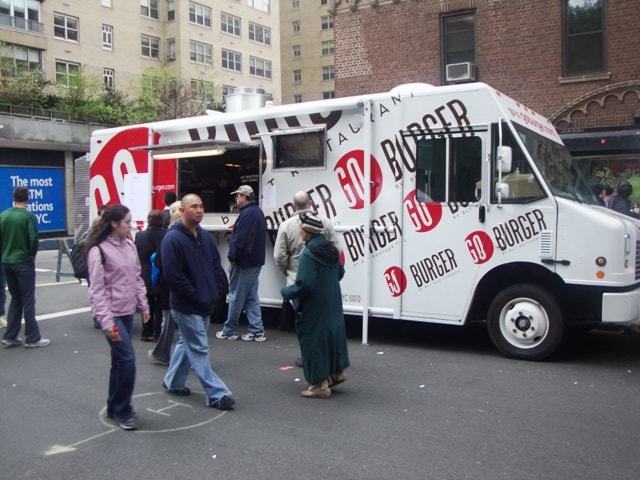 What a beautiful day! Perfect for enjoying some great New York Street Food from the vendors on the right and the trucks below.
Most of the trucks are out on the street today, so let's get cracking.  And make sure to check the Mobile Munchies twitter feed before heading out, in case anyone had to move at the last minute.
LukesLobsterNY
In the same area as yesterday, today. Park Ave and 23rd st. Love this part of town!
biandangnyc
Corner of Coenties Slip and water st from 11:30-2pm!
CoolhausNY HUMP DAY, HUMP DAY, HUMP DAY! T2 @38th bw 5th and 6th and T1 @LICfoodtruckLOT. Hump Day Sammie: PB IC bw DBL CHOC cookies! Secret PW for Wednesday: "Cesar Pelli" for $1 off two sammies! BistroTruck Good day #Carnivores we are on the usual Wednesday spot Old Slip & Water. 11a-3p.
EddiesPizzaNY Truck on 46th and 6th today w spinach ricotta pizza special. Carts on greenwich and duane in tribeca and highline all day. Try a hot chicken pizza w chix cutlet, hot cherry peppers and garlic! Call ahead your order 9174397522
TaimMobile at our regular Wednesday lunch spot today
waffletruck Wafel Wednesday! De Wafel Truck is in De FiDi on Hanover Sq. btw Water St. & Pearl St. till 4:26. De Wafel Cartz; De Goesting is at Greenwich St. & Murray St. till 5:09. De Bierbeek is at Columbus Circle at Time Warner Building till 10:10. Annnd De Central Park Cartz; De Vedette is at 5th Ave. & 60th St. at Zoo til 8:01. De Kotmadam is on De Great Lawn at Turtle Pond til 8:09. FREE DINGES for naming 3 Belgian Beers!