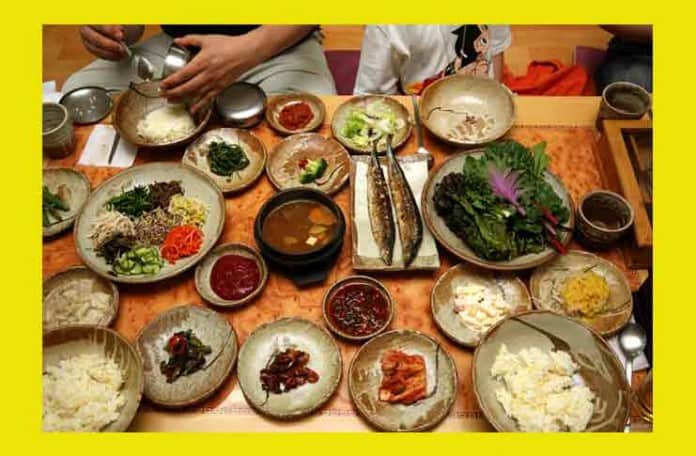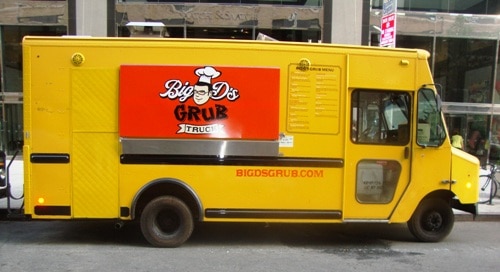 It's been a little while since I've been to Big D's Grub Truck, so I stopped by to see if anything new was going on.  Talk about perfect timing!
Dennis (Big D) had just introduced a new menu item – rice platters – to go along with his Korean tacos, grinders, dumplings and fries.  It was so new, today was only the 2nd day it was available, and it wasn't even on the printed menu.
There was a handwritten sign in the window saying "rice platter $10 with free soda".  You also get a choice of meat to go with the rice – bulgogi beef, ginger chicken, spicy chicken or spicy pork.
Today's Lunch is the spicy pork rice platter ($10 with a free soda) from Big D's Grub Truck.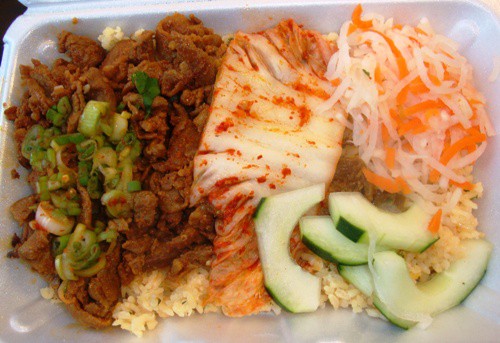 The pork was spicy as advertised, but had obviously been marinated, so there was a little sweet and spicy thing going on.  That's one of my favorite combos.  The pork was topped with a load of sliced scallions, which gave it a little more of a bite.
The pork was joined by a big piece of kimchi, which was pretty hot.  After eating some of the pork and kimchi, the cucumbers and shredded daikon & carrots served as cool, refreshing breaks.  They were also a good way to finish the meal.
Since this was a rice platter, everything was served on top of rice (natch).  I'm not a rice expert, but it was a fairly small grain, and was cooked to the right amount of doneness.
The rice clumped together a little, which I understand is what it's supposed to do in Korean cuisine.  With all of the juices from the meat and veggies above, the rice took on several different tastes depending upon what it was under.  My favorite was the rice under the spicy pork, which were the last few bites of my lunch.
Today's Lunch from Big D's Grub Truck was delicious.  We have enjoyed his tacos, grinders and dumplings, and now there is something new to enjoy on the menu.
My only gripe with Big D is calling the sandwich on the menu a grinder.  This is New York, where we call them heros.  I know Dennis is originally from New York, but he spent too much time in Atlanta if he's calling the sandwiches grinders.
Well, at least he didn't call them hoagies!