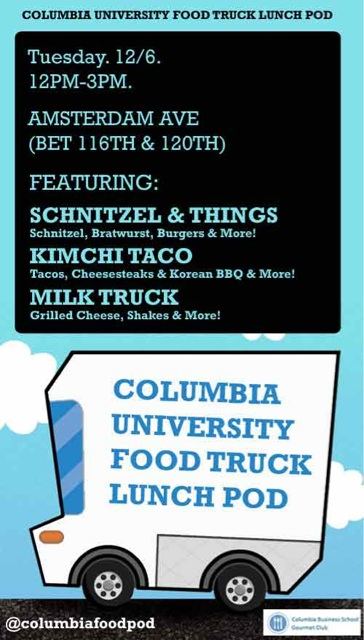 If you're uptown, today is another Columbia Food Truck Lunch Pod, and I believe this is the 1st time any of these trucks have been at The Pod.  Details are in the poster above.
There are plenty of other great New York Street Food options further south in Manhattan and in NJ from the vendors on the right and the trucks below.
Make sure you check the Mobile Munchies twitter feed before heading out, in case anyone had to move at the last minute.
ColumbiaFoodPod Today! 12PM! @columbiafoodpod w/ @schnitznthings @kimchitaco & @milktrucknyc. Amsterdam. 116-120th. yfrog.com/nyvxmnnj
milktrucknyc a little detour for us today. we're doing our part for higher education @ColumbiaFoodPod today only 12-3 Amsterdam. 116-120th.
bigdsgrub
Rain? WHAT RAIN!?? Lunch at Hanover Sq by the scaffolding!! We got you covered…literally! Preorder by calling 646-543-BIGD
lobstertruckny
Red Hook Lobster It feels like April in Bar Harbor! We've pulled in our Trawls on 50 b/n 6 & 7th. LOBSTAH MAC, CHOWDAH and Ct Rolls await! Tree is nice too.