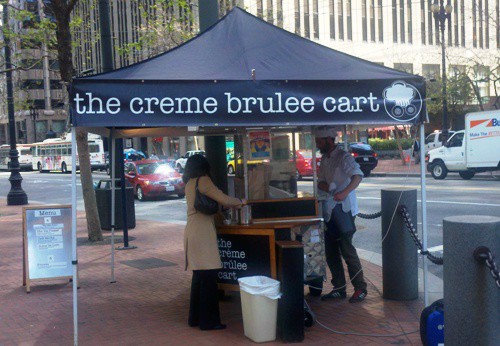 When I asked people for street food suggestions in SF before I left, several people said I had to try the Crème Brûlée Cart.  They have a cart during the day on Market St by Sutter, and a truck at night on Market St by Castro.
I also tried freshly filled cream puffs from Pacific Puffs, who were at Truck Stop SF earlier this week.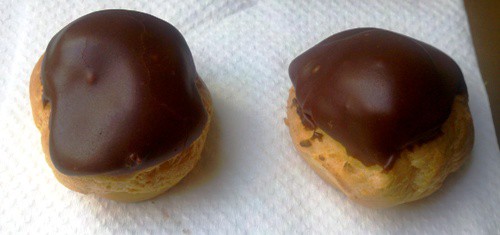 Pacific Puffs sell regular size cream puffs for $3.25 or minis for $2. They have 4 varieties where you can mix and match vanilla or chocolate cream and with either a chocolate top or a sugar top.  They also have a special cream flavor each day.
I got 2 minis – vanilla cream with a chocolate top and amaretto, their special flavor of the day, also with a chocolate top.
Upon taking a bite, the puffs burst in my mouth with cool smooth cream.  It was light and not overly sweet, as some cream puffs can be.  The vanilla and amaretto creams each had those distinct flavors, and I must say the amaretto was my favorite.  Glad they had it that day.  The pastries were freshly baked too.  These were much better than cream puffs I've had from most bakeries.
Moving on to the Crème Brûlée Cart, they had several flavors to choose from as well.  For $4 you can get vanilla bean & honey, nutella & strawberries, Coffee & chocolate and dulce de leche with goat's milk.  For $5 you can get s'mores, which is chocolate crème brûlée with toasted marshmallows, topped with graham crackers.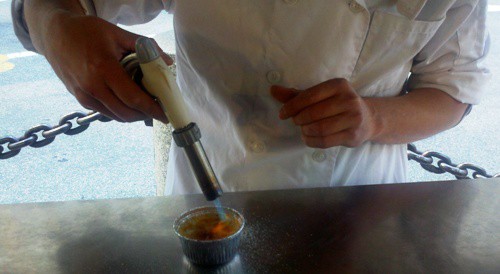 I asked which one was recommended, and he said the most popular flavor is vanilla bean and honey, which I got.  He took out a small tin cup with crème, put sugar on top, and out came the blowtorch to caramelize the sugar.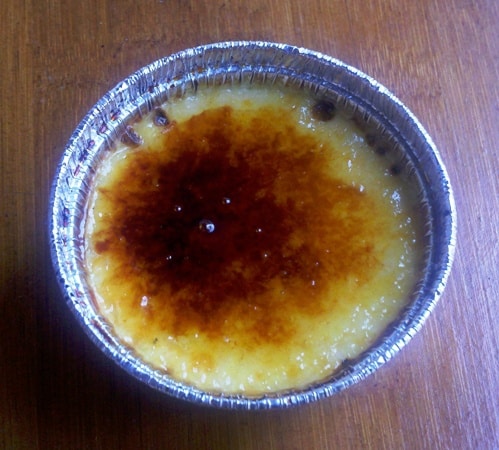 When he was done, the top was bubbling away, and I was instructed to wait for one minute before eating it.  That gave the top time to solidify into a thin layer of caramel, which was solid, but not too hard to get through with a plastic spoon.
Underneath the crispy top, which was AMAZING, the vanilla bean and honey crème was speckled with actual vanilla bean.  That may sound obvious, but how often do you see vanilla anything with the vanilla beans visible?
Another successful crème brûlée for one very happy customer! Next time I have to try the s'mores.