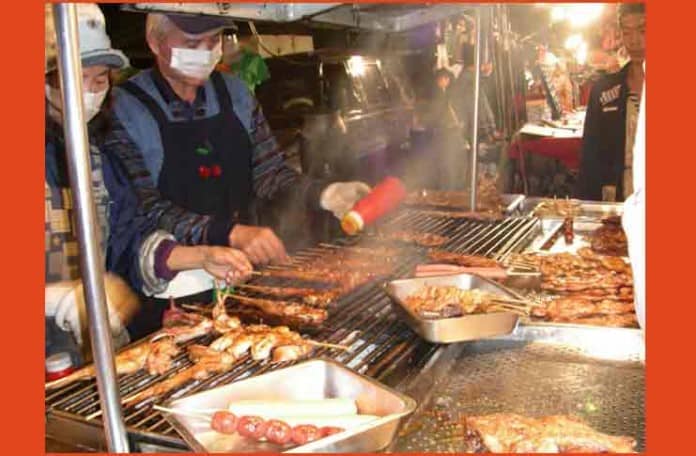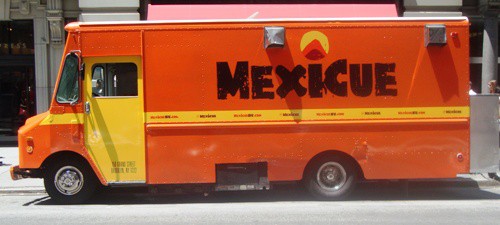 I saw a few days ago that Mexicue had a couple of new menu items, and since I haven't been there in a while, I headed there for lunch.
They had a new chicken chipotle slider ($3), which was their spring recipe contest winner, and a mushroom taco ($4), which along with one other item, was supposed to be Today's Lunch.
Unfortunately, the person right in front of me on line got the very last chicken chipotle slider, so I ordered the mushroom taco (left), a chicken taco (center, $3) and a brisket slider (right, $4).
Starting from the left, I picked up the mushroom taco, which had corn salsa and cojita cheese, as well as 2 tortillas.  This taco was not spicy, but the mushrooms had a smokiness that was very pleasant.  Vegetarians should really enjoy this taco, and even a carnivore like me did.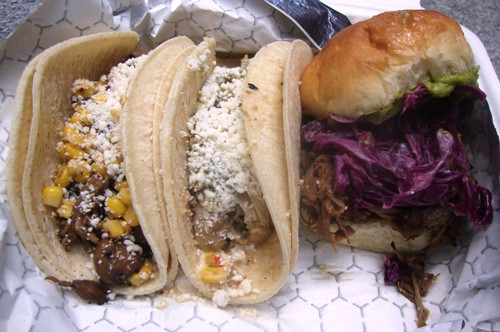 Next up was the chicken taco that substituted for the chicken chipotle slider that I missed out on.  This taco had shredded chicken, salsa verde and more cojita cheese sprinkled on top.  The salsa verde gave it some significant heat, but it also gave the taco some excess liquid that ran out the back of the taco on each bite.  It tasted good, but I was thankful it was eaten over the container, instead of getting all over my shirt.
The brisket slider was last, and it turned out to be my favorite of the bunch.  The slider had shredded, smoky brisket, a sweet and tangy bbq sauce, red cabbage/habanero slaw and guacamole.  This slider had several different flavors, and while it wasn't spicy at first, the heat built up with each successive bite.  The slider bun held up well to these strong flavors, and I even tasted a hint of honey glaze on top of the bun.
Today's Lunch was another excellent one from Mexicue, a 2010 Vendy Award Finalist in the Rookie of the Year category.  I was disappointed not to try their spring recipe contest winner – but everything else on the menu is a winner, so no worries.
If you want to enter Mexicue's summer recipe contest, click here.  Follow them on twitter here.