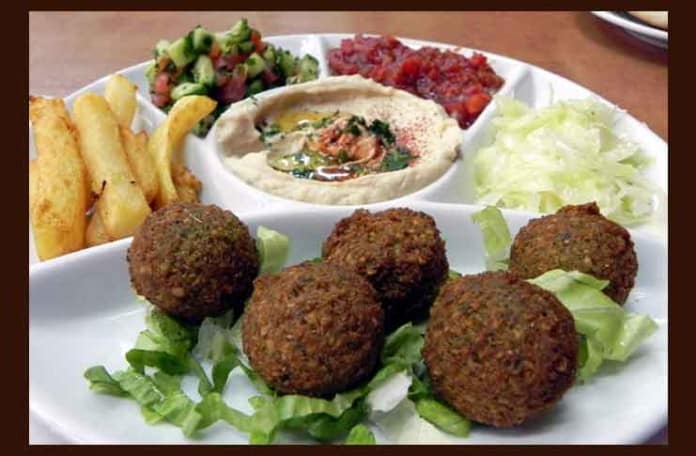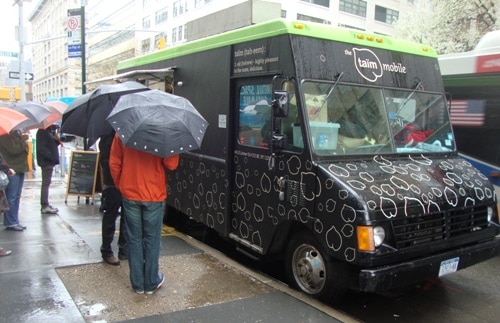 I've had a number of excellent falafel sandwiches from Taim Mobile, but never had one of their platters.  I figured with the rain, lines would be shorter, but it was only a little shorter than usual.  Today's Lunch is a falafel platter ($10) from Taim Mobile.
Taim's falafel platter comes with six falafel balls, hummus, quinoa salad, Israeli salad and pita bread.
Taim's falafel is crispy and brown on the outside, but an intense green inside, with lots of herbs.  They come in a separate bag, but I cut them open and put them into the hummus.
The falafel were hot and steamy and still moist on the inside.  Delicious, and even better with the hummus.
Taim's hummus is rich and creamy with just a touch of lemon.  Some hummus can be grainy, but Taim's was creamy and excellent.
The two salads were very good too. I really liked the quinoa salad, which had some chickpeas and herbs, and I particularly liked the dried cranberries, which added some fruitiness.  The Israeli salad was good too, but I'm not a big fan of tomatoes, so I preferred the quinoa salad.
Last but not least was the pita bread, which was thick and fluffy and warm.  It was brushed with sesame seeds and olive oil, and was strong enough to scoop up hummus and falafel without breaking.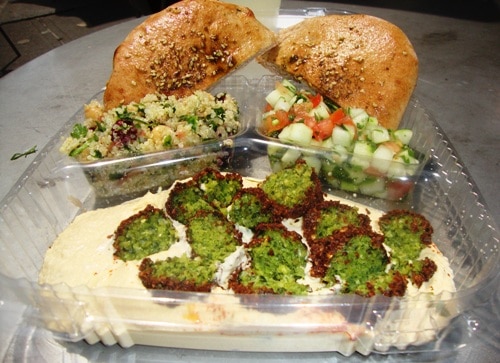 When I first got my lunch, it seemed like a lot of food, but after I was done, I wasn't stuffed like with some other street food lunches.  Taim's food is healthy and very tasty, but you feel good after eating a full lunch, not overstuffed.
With food this consistently good, I expect Taim Mobile to be nominated for a Vendy Award this year.  With the Vendy Award nominations expected any day now, I guess we'll know soon enough.