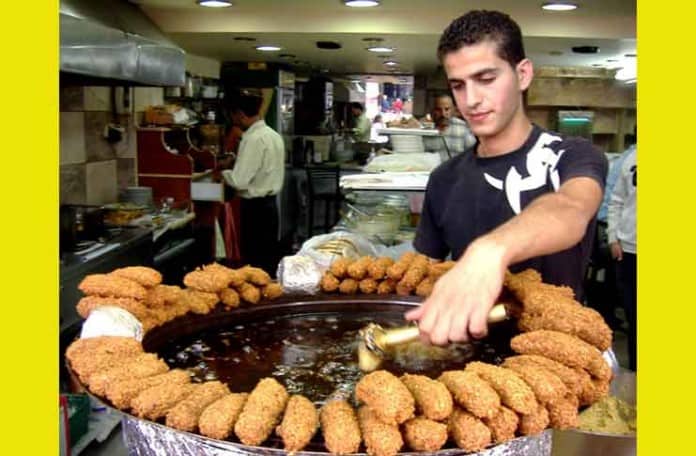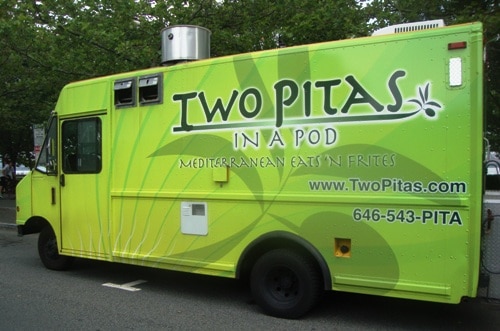 It was a beautiful day Saturday, and there were two new food trucks parked in Hoboken that I have been wanting to try – Two Pitas In A Pod and La Bella Torte. While it's not always the case, we generally have dessert after lunch, so check back later for a First Look at La Bella Torte.
My wife and I walked a few blocks over to Christopher Street, got on the PATH, and took it 1 stop to Hoboken.  It was faster for us than going to much of Manhattan, not to mention Brooklyn, Queens or any other borough.
I heard good things about the food at Two Pitas when they were at the Hell's Kitchen Flea.  With two of us, we could try a few more things than if I was by myself.  I asked Athos what he recommended, and he suggested the lamb kefta kabob, classic falafel and Pod fries.  Sounded good.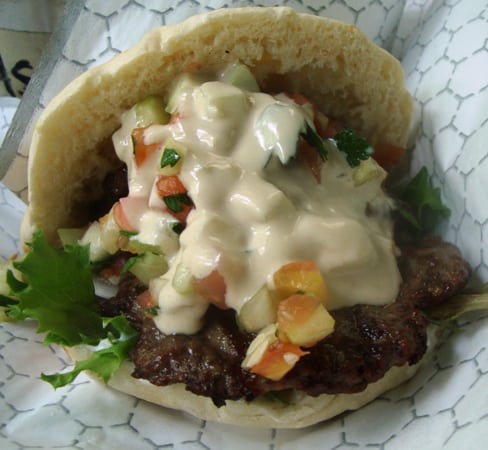 While we were waiting for our food, we could see Athos zesting a bunch of fresh lemons.  When was the last time you saw that on a food truck?
First to emerge was the lamb kefta sandwich ($9.50), which had Israeli salad, grilled onions, tahini, tzaziki sauce, and several pieces of grilled lamb kefta on pita bread.
Being a gentleman, I handed the sandwich to my wife, who took a bite and said "this meat tastes like it's homemade".  We asked Athos where he gets the lamb kefta, and he said they buy halal lamb, grind it up themselves, and add their own blend of spices.  Damned if it wasn't homemade kefta!
It had a little charring around the edges, and was very juicy and tasty.  This is probably the first time I've had homemade kefta, and you could immediately tell the difference.
The lamb kefta stood up well to all the other fillings, and this was one of the juiciest, tastiest sandwiches of this type I've had.  Yes, $9.50 is a little on the high side for a lamb kefta sandwich, but the meat was homemade, the other ingredients were fresh, and the sauces were very good too.  I always say that I prefer to pay a little more for higher quality food than to pay less for lower quality food.  This was the former.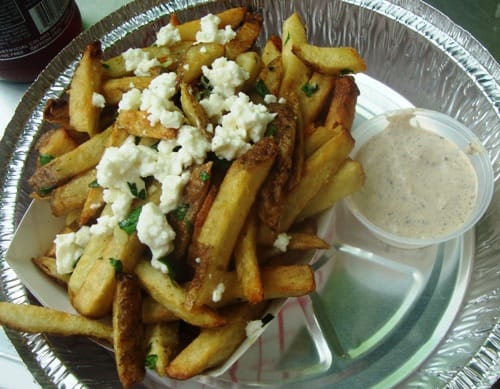 Next to emerge from the truck were the Pod frites ($4), which were their version of Greek fries.  They were hand-cut, twice-fried potatoes tossed with garlic, parsley, feta cheese and that fresh lemon zest.  You get a choice of 3 aioli dipping sauces – chipotle, charred tomato and roasted garlic.  We got the charred tomato.
The Pod frites were very good too.  This was a pretty big portion, and most of the bites had feta and the various spices.  The frites were cooked just right, with some crispy and some a little less done.  The charred tomato dipping sauce was a brilliant way to have a light, creamy tomato sauce to dip the frites in.  Much better than ketchup, which is what I usually put on my fries.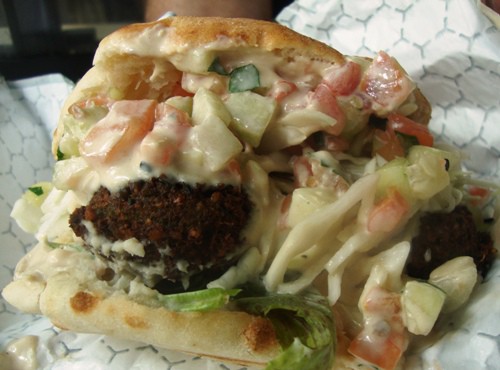 The last item we tried was the classic falafel sandwich ($5.50), which had 5 falafel balls and Israeli salad, tahini, pickled white cabbage, and white bean hummus.  You can see how overstuffed the pita was – bit it didn't fall apart.  A little of the Israeli salad fell out on the first bite or two, but there was so much stuff in this sandwich, it really didn't matter.
The falafel balls were well done, and inside they were a vibrant green color, and spiced perfectly.  The tahini and all the fillings were good, but in my opinion, their secret weapon (besides the falafel) was the white bean hummus.  It was creamy and delicious inside the falafel sandwich.
This was a great NYSF First Look at Two Pitas In A Pod.  The food was very fresh, and they used different spices really well.  This was definitely one of the more enjoyable lunches I've had recently.  Athos and Scott have food as good as any other truck out there, and better than a lot of brick and mortars.
It's easy to find Two Pitas In A Pod in Hoboken or Jersey City, but if you can't do that, make sure to check them out at the Hell's Kitchen Flea Food Truck Bazaar the 2nd Sunday of every month through October.
Website here
Twitter here
Facebook here