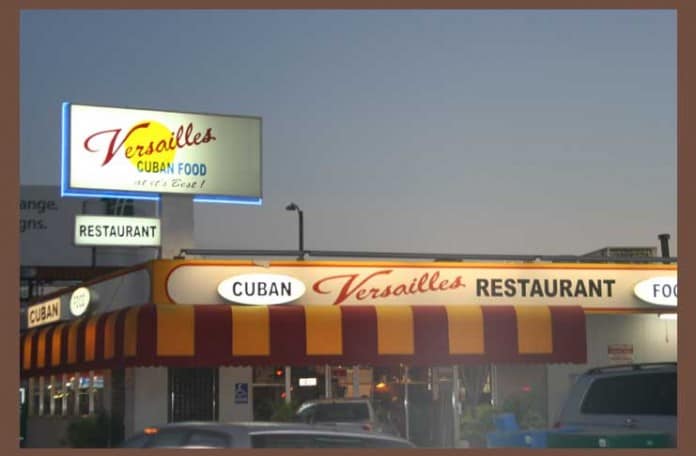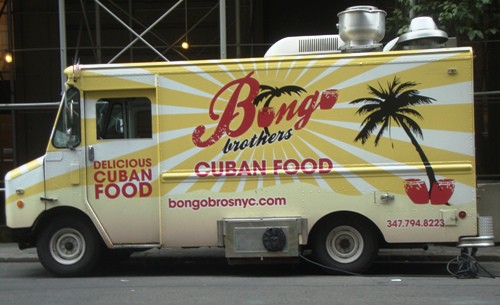 I went to the Bongo Brother Cuban Food truck recently, but haven't had a chance to post about the lunch.  They are off the road for a private event today, but will be back tomorrow.  Bongo Brothers will also be part of the MasterCard Priceless NY promotion going on for the next month, so keep your eyes open (or just read New York Street Food every day).
I have only had sandwiches from Bongo Brothers, and one dish I hadn't tried yet was Lechon Asado ($9).  Yes, it was as good as it looks!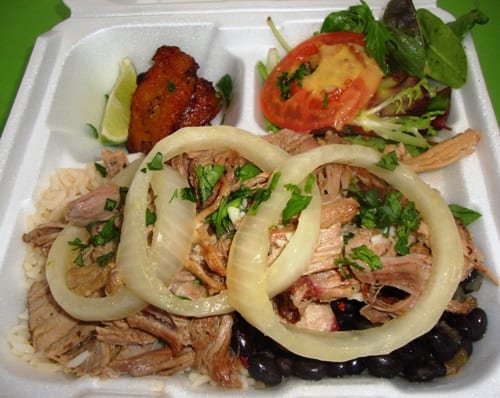 Lechon is roast pork, and this roast pork was tender, juicy and there was a ton of meat.  I got a little crispiness from the roasting on some pieces, and the meat had a light sauce on it as well.
The roast pork was put on top of rice and black beans, which were served separately.  The rice and beans were both firm, but cooked, and even better when scooped up with the meat.
On top of the meat were three rings of sweet onions, which were tough to cut without a knife, but delicious with the pork.  Guys, you should include a knife with this meal just for the onions.  The pork didn't need a knife.
Some cilantro was also sprinkled on the meat, and I squeezed on fresh lime juice.  Both gave additional flavor to the meal.
There was a small salad that was a cut above the usual street lunch salad, but what was really exceptional were the sweet plantains.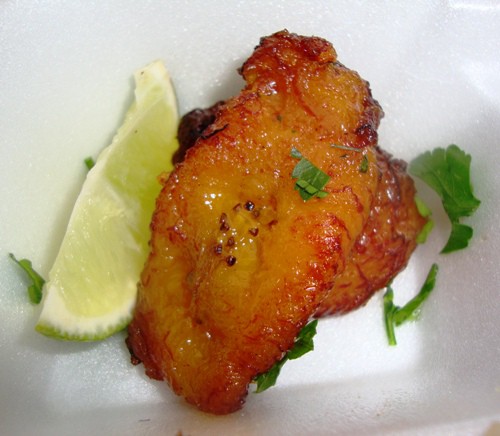 There were two pieces of nearly-caramelized sweet plantains that were soft, sweet and delicious.  The only problem was there were only 2 pieces.  Would have loved more of these babies.
The Lechon Asado from Bongo Brothers was probably my second favorite lunch from them, after the Cuban sandwich – but both were excellent.  The lechon asado was a heavy, hearty meal that should help you get through the cold weather.  The full Bongo Brothers menu can be seen here.
You can follow Bongo Brothers Cuban Food on twitter here or on our Mobile Munchies twitter feed.