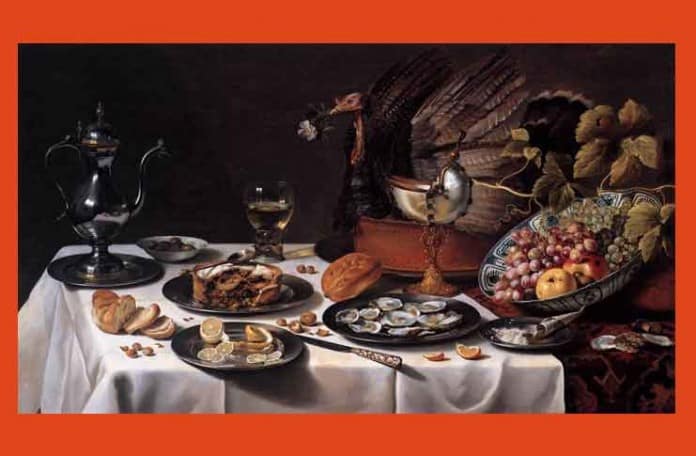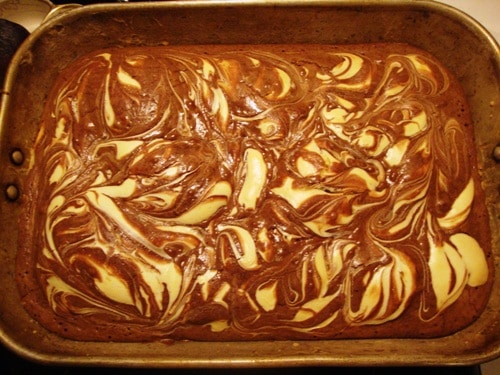 We made cheesecake-marbled brownies for Thanksgiving dessert and they were excellent.  Brownies with cheesecake mixed in – how can you go wrong!
The recipe was originally in Gourmet magazine, but as usual, my wife made some changes along the way.  This recipe is a definite keeper!
For the brownie batter
1 stick (1/2 cup) unsalted butter, cut into pieces
2 oz. unsweetened chocolate, chopped
1 cup sugar
2 large eggs
1/2 teaspoon pure vanilla extract
2/3 cup all-purpose flour
For the cheesecake batter
8 oz. cream cheese
1/3 cup sugar
1 large egg yolk
1/4 teaspoon pure vanilla extract
Make brownie batter
Put oven rack in middle position and preheat oven to 350 degrees.
Butter and flour 8-inch square baking pan. (we used a rectangular pan, and it came out fine)
Heat butter and chocolate in a 3-quart heavy saucepan over moderately low heat, whisking occasionally, just until melted.
Remove from heat and whisk in sugar, eggs, vanilla, and a pinch of salt until well combined.
Whisk in flour until just combined and spread in baking pan.
Make cheesecake batter
Whisk together cheesecake batter ingredients in a small bowl until smooth.
Dollop over brownie batter, then swirl in with a knife or spatula.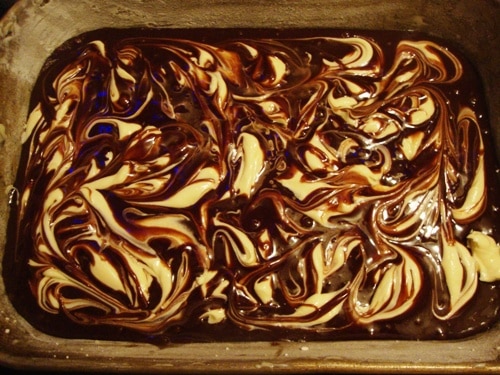 Bake brownies
Bake until edges are slightly puffed and center is just set, about 30 minutes.
Serve warm or at room temperature.  You can even put some ice cream on top, especially if served warm.
ENJOY!