A couple of weeks ago, I had a great new lunch, cevapi, from a brand new Bosnian food truck – the Cevap Truck, located on 5th Ave between 21st & 22nd St.  It was good enough that I wanted to try something else from there.
Today's Lunch is chicken kebab ($5) and a meat burek ($3) from the Cevap  (pronounced "che-vop") Truck.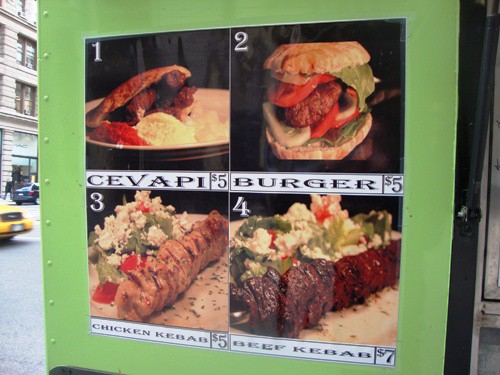 The chicken kebab wasn't a kebab in the traditional sense – it was more like a grilled chicken cutlet sliced up and put over a salad.  As you know from my reviews of Carnegie John's chicken over rice, I prefer white meat chicken, so this was right up my alley.  The chicken was lightly seasoned and had that great grilled taste – and it was still moist.  There was a lot of chicken in this lunch for $5!
The chicken was placed over a very fresh salad of lettuce, tomatoes, cucumbers, raw onion and crumbled cheese that looked like feta, but was milder.  The salad had an oil & vinegar-type dressing which went well with the grilled chicken.  Unintentionally, this turned out to be quite a healthy lunch.  If you have dietary restrictions, this would probably be a good option for lunch.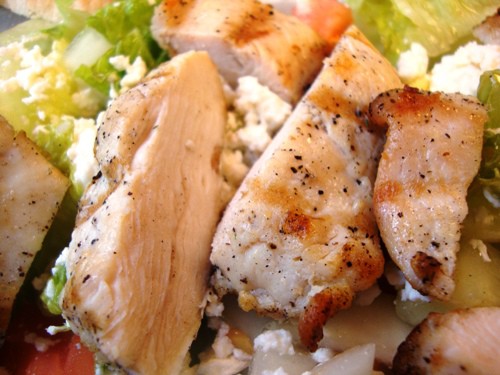 There was half a piece of bread on top of the lunch, and I didn't realize the other half of the bread was under the salad and chicken.  This meant when I got to the bottom of the meal, there was a piece of bread soaked in salad dressing with lots of crumbled cheese that was pretty tasty.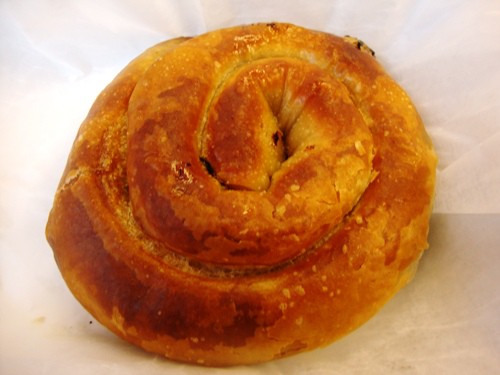 The chicken kebab was plenty for lunch, but I also ordered a meat burek because I just had to try one.  I had a cheese burek last time that was decent, but it was a bit salty and I thought it could be better.  The guys told me the meat burek was their most popular, so that was my choice this time.
They take minced, spiced beef and roll dough around it into a tube, roll the tubes into a spiral, and bake it.  IMHO, the meat burek was definitely better than the cheese one.  The minced meat and dough were a better combination than dough and cheese. The burek was crispy on the outside and a little chewy inside, and it wasn't as salty as the cheese burek.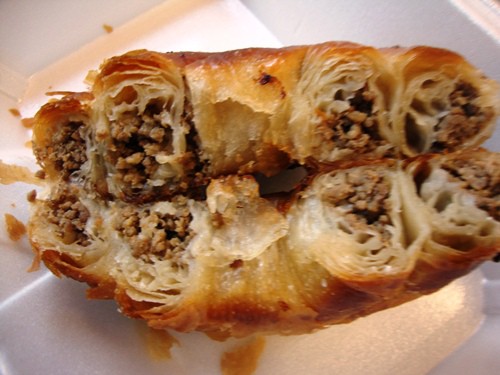 Today's Lunch gets two scores.  The chicken kebab (which was basically grilled chicken over salad) gets an 8.5 out of 10 because it was 100% grilled chicken breast, the salad was cool and fresh, and there was a lot of food for $5.
The meat burek gets an 8 out of 10.  I enjoyed it more than the cheese burek, and at $3, it could even be a meal for some people.
Whether you get cevapi, kebabs or bureks, the Cevap Truck is a welcome addition to the New York Street Food scene.