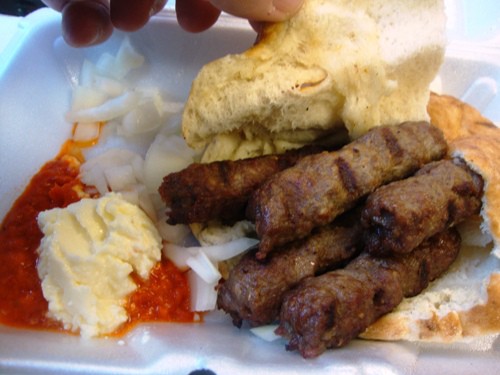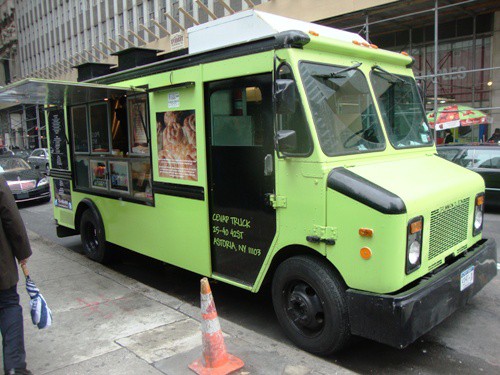 Late last year, there was a new truck in the Flatiron area called the Cevap Truck.  At that time, the guys in the Cevap (pronounced "che-vop") Truck told me they were originally from Bosnia, had opened a restaurant in Astoria named Ukus, and started this truck last December, when it was pretty f'ing cold out.  They disappeared a little while later, but I wasn't too surprised because the middle of winter is not the time to launch a new food truck.
I was hoping the Cevap Truck would be back when the weather got nicer, but they didn't respond to my emails asking when they were coming back.  Not a good sign. Just when I thought they were gone for good, the green truck reappeared around Bryant Park a couple of weeks ago.
The menu is pretty much the same, with a couple of adjustments, which I'll describe below.
Today's Lunch is a cevapi platter ($10) from the Cevap Truck.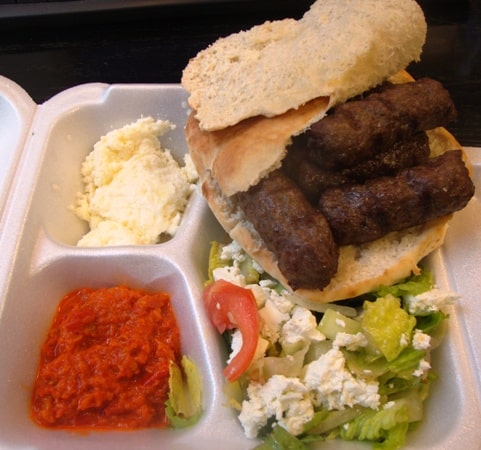 Cevap is a skinless sausage about the size of a breakfast sausage (and cevapi is plural).  It is a Balkan dish made from spiced minced beef, and is similar to kofta.
Cevapi consists of 5 sausages served in a soft white pita-type bread called lepinja or somun.  The cevapi were nicely grilled on a flame, and you could see the grill marks on the meat.
The cevapi were served with a creamy cheese called kaymak that had the consistency of room temperature butter but was cheese, and a minced sweet red pepper sauce called ajvar.  The platter also came with a salad of lettuce, tomato and feta cheese with an Italian-type salad dressing.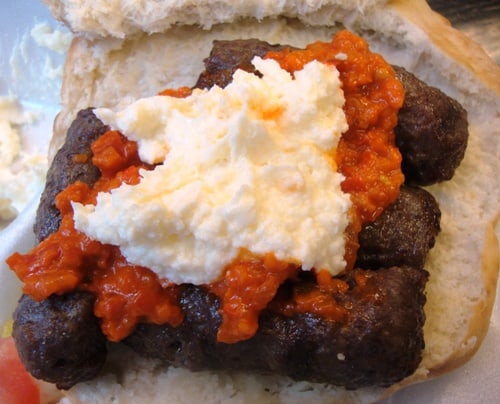 The cevapi were good by themselves, but even better with the red pepper sauce and cheese on them.  Five sausages on pita make for a large sandwich, and it was delicious.
I didn't realize until I got back to the office that a dessert had also been put into my bag.  As they were packing my order, I told them about New York Street Food, and I guess they wanted me to try their dessert.  After taking one bite, I understood why.  After a few bites, I was in dessert heaven!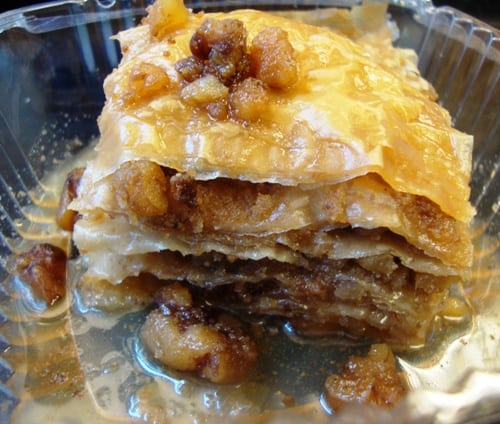 I didn't catch the name of the dessert, but it was really good.  At least six layers of phyllo dough with nuts, cinnamon, and a sweet, syrupy sauce.  It was similar to baklava, but probably has a different name.  Whatever it's called, it was very tasty, but quite sweet.
Today's Lunch was a welcome return of the Cevap Truck, although I do have a little bone to pick about the new menu.  Most of the grill items are now $10 (chicken is $8) and come with a salad, but you can't get just a sandwich.
The old menu had cevapi and beef kebab sandwiches for $5, which was ridiculously low.  I understand raising the prices from $5, but including a salad and doubling the price isn't a great deal.
The food is still really fresh and good, but I would still like to be able to get just a cevapi sandwich for $7 or $8.  Maybe if enough people want just a sandwich and ask for it, they could add it to the menu.