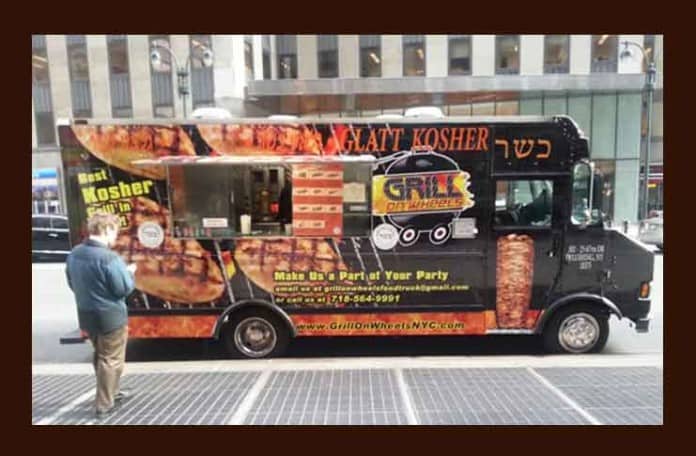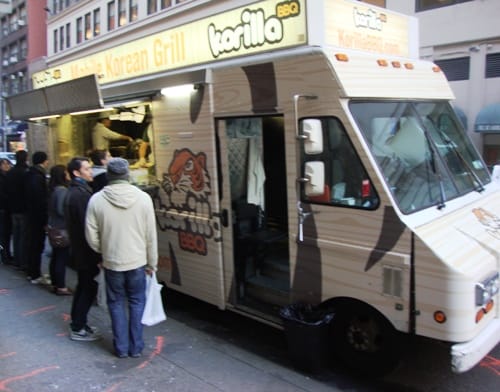 It's been a crazy morning with the NY Post article about the New York Street Food Walking Tour, WCBS Radio just contacted me for an interview, and I'm going to be on Valerie's New York on WOR AM again next week talking about all the new food trucks and some of my old favorites.  When it rains, it pours – but that's better than a drought!
Enjoy some great New York Street Food this beautiful sunny day from the vendors on the right and the trucks below.
As always, check the Mobile Munchies twitter feed before heading out, in case anyone had to move at the last minute.
biandangnyc 53rd btwn Park and Lexington: Ready by 11:10!
bigdsgrub 4/14 (Thurs) G'morning! We are on 31st and Park today from 11 to 2:30pm!
KimchiTruck It's a beautiful morning! Get your shades on and meet us in SOHO – Hudson & Charlton. 11:30-2:30pm. Still open at 11:30 in Soho (Hudson & Charlton) but Kimchi Bowls will not be ready until 12. Temperamental generator issues.
joyridetruck Sorry, running late today. We'll only be getting in around 10am.
ETRAVAGANZA Hello lunchers!!Carne asada sizziling on a blue corn tortilla!!waffletruck Thursday wafel fiesta w the truck on 46 btw 5/6th Ave until 4:28. Jr. Trucks r out! Vedette on 60 at 5th ave till 6, Bierbeek on Whitehall btw water/pearl till 8, Goesting 40th St btw 7/8th ave till 4:30 What beatles song best describes your wafel&dinges experience for 1 dinges