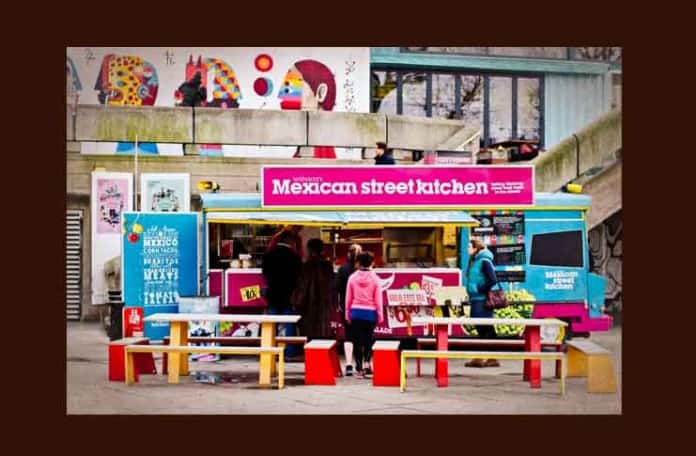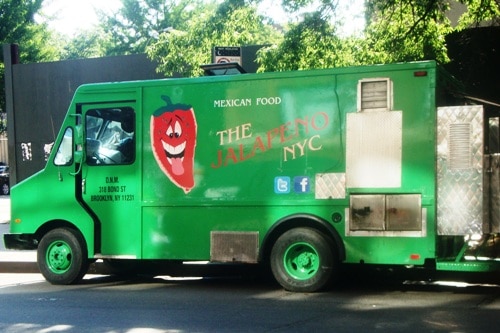 The Jalapeno NYC is a relatively new truck that appeared on the New York Street Food scene in April.  They park most days on Hudson St, but since the police said there were too many trucks around King St, the Jalapeno NYC truck moved 2 blocks up Hudson St between Houston and Clarkson Sts.  This seemed to do the trick.
In our First Look, their chorizo, beef and al pastor tacos were each enjoyable, even though the service still had some rough edges. For Today's Lunch, I wanted to try a couple of their funkier items – lengua (pork tongue) and barbacoa (steamed goat) tacos, which cost $2.50 and $3, respectively.
Service was definitely quicker than last time, but there were only three people in front of me.  The tacos came with onions, cilantro and guacamole, and I added radishes, lime and habanero salsa, one of three salsas they had to offer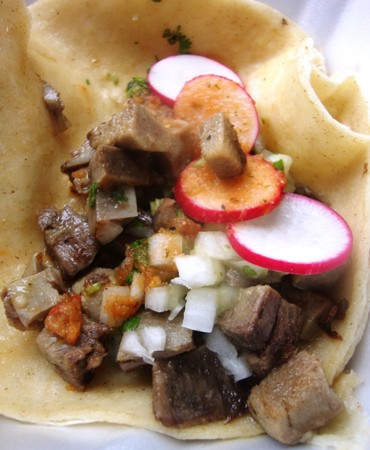 The first one I tried was the lengua taco, which I understand is very popular among native Mexicans.  My only experience with tongue in the past was as part of a Jewish appetizing platter.  My aunt loved tongue, but I didn't remember that she liked beef tongue, which was thinly sliced like pastrami or corned beef.
Lengua in this taco was chunks of pork tongue that were springy and soft and reminded me of…a tongue. Even though I eat street food for lunch every day, I'm not what you would call an adventurous eater, and this wasn't my cup of tea.  There were two tortillas, but they started breaking in the middle almost right away, making the taco pretty difficult to eat.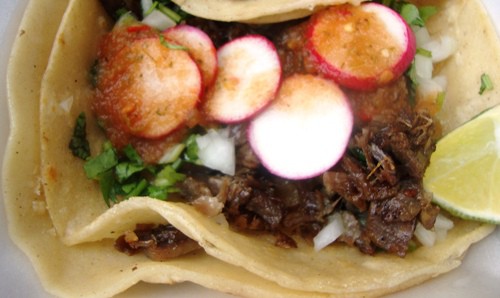 The barbacoa taco was better.  The goat was shredded, and still had some crispiness around the edges.  It was moist and tender and not too gamy.  There was a little bit of fat in with the meat, but not much.  With the radishes, salsa, onions and cilantro, this was a decent taco – but the two tortillas fell apart pretty quickly again.
Today's Lunch from Jalapeno NYC was a mixed bag.  I didn't really enjoy the lengua, but the barbacoa was good.  However, the whole point in using two tortillas is so the taco doesn't fall apart. If you're using two tortillas and they are still breaking through, time to find some new tortillas.
I would still like to try a burrito and torta sandwich from Jalapeno NYC, and will let you know when I do.