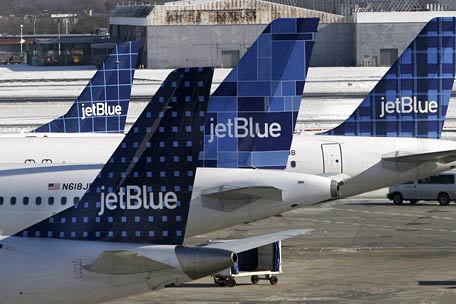 UPDATED FOR VENDORS & LOCATIONS BELOW
On Friday Nov 2nd, Jet Blue and the NYC Food Truck Association are teaming up to serve thousands of hot meals to New Yorkers without power.
The NYCFTA says 15 food trucks will participate. So far we know about Mexico Blvd, SweeteryNYC, CupcakeCrew, Big D's Grub Truck and Coolhaus. More to be announced.
According to Jet Blue this is "Just our way of giving back to our very own hometown. #WeLoveNY".
We will update as soon as we get to the office tomorrow morning, as we are one of the powerless living below 23rd St.
Click through for the actual vendors and locations, as of 10am Friday morning, Nov 2nd.
The NYC Food Truck Association is coordinating the relief effort with Jet Blue Airways to bring food from self-sufficient food trucks to powerless New Yorkers.
From noon to 4pm today, the following 12 food trucks will be giving away 11,000 free meals at 7 different locations.
Chelsea 8th Ave & 19th St – Andy's Italian Ice, Milk Truck, Frites n' Meats
 Washington Square – West 4th Street – Big D's Grub, Coolhaus
Rockaways – Beach 50th and Beach Channel Drive – Cupcake Crew, Eddie's Pizza
Astor Place – Rickshaw Dumplings, Toum, Wafels and Dinges
Tompkins Square Park – Sweetery NYC, Mexico Blvd
14th & 3rd Ave by Trader Joe's – Wafles and Dinges
City Hall Park – Wafles and Dinges
Jetblue is a big fan of food trucks.  Their LIC food truck lot (which is closed for the season), was well frequented by Jetblue employees due to its proximity to the Jetblue headquarters.  Jetblue were sponsors of the Vendy Awards in NYC and the NYC/BOS food truck throwdown in October (http://www.foodtruckthrowdown.com). 
A Big THANK YOU to the  NYC Food Truck Association and Jet Blue. We will remember this next time we have to fly somewhere.