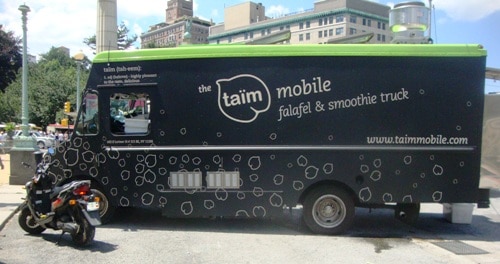 A couple of pieces of news have come out of the Taïm camp.
If you're looking for a new place to indulge in some of the best falafel in NYC, or looking for a job, click through for details.
Taïm, who started out as a storefront in the West Village, then opened The Taïm Mobile, are now opening another place in Nolita.  It will be on the corner of Spring & Mulberry, and is scheduled to open the second week of October.
The Taïm Mobile is also hiring. If you have a Mobile Vendor Permit and would like to sling falafel on the Taïm Mobile, please email mike@taimmobile.com or info@taimfalafel.com. Must love sabich! (We added that last part.)
With the truck closed today for Yom Kippur, don't expect an answer back right away.