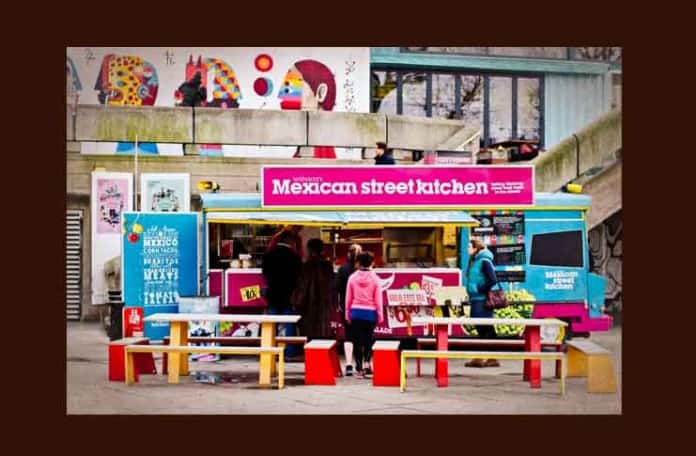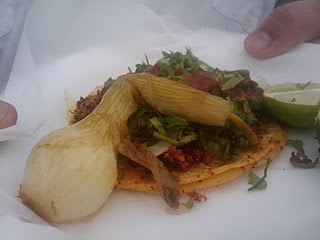 Taco trucks can be intimidating if you don't know any Spanish (or haven't taken Spanish since high school).  If the guys in the truck aren't too comfortable with English, these terms may help you out.  Using some Spanish may get you better service or a fuller taco even if the vendor speaks English well.  No need to be unsure of yourself at the taco truck next time.  Thanks to Ziggy Smogdust from Austin for this handy-dandy guide.
Maiz – corn, as in corn tortillas
Harina – Flour, again for tortillas
cilantro y cebolla – cilantro and onions – the non-gringo topping for most tacos. Lettuce and tomato is for the Taco Bell set. The taqueros will often ask "Con todo?" (with everything) which usually refers to these condiments. If you really want lettuce and tomato, order a tostada.
barbacoa and/or cabeza- cheek meat
pastor – pork
chivo – goat
tripa or tripita – tripe (intestines)
chicharron – pork skin
longaniza – a type of sausage
chiles toreados
– these are basically a grilled or roasted jalapeno pepper. Many trucks offer them for free with your order. If the side of the truck says "chiles gratis", then make sure you get it with your tacos
cebollitas – these are the small onions that have part of the stem with them. They are grilled like the chiles toreados and are quite tasty. Often the trucks will have "cebollitas y chiles gratis" written on the side of the truck, so these should accompany your order.
Lengua – beef tongue
Bistec – Beef Steak
Pollo – Chicken
Milanesa – a breaded and fried piece of thin beef steak
deshebrada – shredded beef
chorizo – another type of sausage, but it is usually served with eggs
machitos – another form of tripe
suadero – brisket meat
campechano – a mix of chorizo and beef
nopales or nopalitos – cactus (spines removed) Pretty much the only thing vegetarian on a TT menu. These are actually very good when done right. [
Ziggy Smogdust
]
On a related note, here's a video of the World's Fastest Taco Stand, by San Diego's
Masa Assassin
.  It's called Tacos Fitos and is located in Tijuana, Mexico. [Taco Matrix]