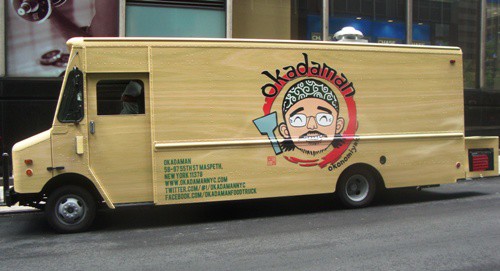 Ever had Yakisoba Noodles? Well, when we were talking with the owners of Okadaman at the Vendy Awards last month (they were nominated for Rookie of the Year), they told us about a new menu item being sold at the truck, a Japanese burger. Last week we stopped by to try it.
Unfortunately, the burger was not available at the truck that day, but we were still able to order something we hadn't had before for lunch, Yakisoba Noodles, which cost $6.75.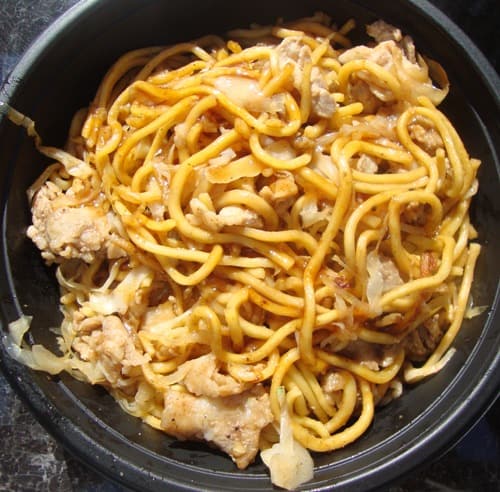 Yakisoba Noodles is a Japanese noodle dish that is fairly common in the US. It can have a number of different proteins included, such as beef, pork, chicken, tofu, or just veggies.
At Okadaman, they use sliced pork. Other ingredients include Napa cabbage from a farm in upstate NY, yakisoba sauce, Worcestshire sauce, noodles, and bonito flakes.
The Yakisoba Noodles sauce is a thick, somewhat sweet brown sauce that is not overpowering, but adds a nice flavor to the pork and noodles. You have to look hard to see it, but the taste is there, and it sweetens up the dish a little.
The pork is good, but yakisoba is essentially a noodle dish with some meat rather than a meat dish with some noodles. There wasn't a huge amount of pork, but there was enough.
There's nothing worse than wimpy or overcooked noodles, but the noodles at Okadaman had some life to them. That's important in a noodle dish like yakisoba.
You can find Okadaman on Twitter here or on our Mobile Munchies twitter feed. They often park on 47th St between Park & Madison Ave, but are on 51st & Lex today. We suggested they try different areas, and it looks like they might be taking our advice.
If you haven't tried okonomiyaki (below), we highly recommend it.
We still have to get back to Okadaman at some point to see what the Japanese burger is all about. If you've tried it, let us know what you think.